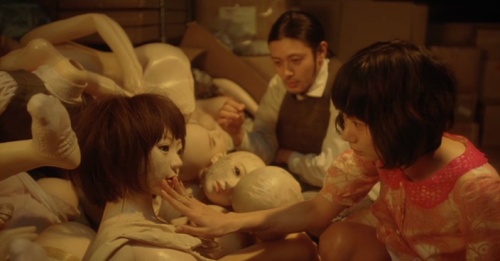 Two years is a long time.
Just two years ago, I'd seen very few Japanese live-action films, only to eventually realise that my interest in anime was linked to a broader fascination with the whole spectrum of Japanese art; what I get from anime, I hear in Japanese music and see in Japanese film, too. This runs deep for me and I can't explain why, but anyway, since that point, I've seen dozens of Japanese films; I have favourite directors and keep finding new music (the latest being World's End Girlfriend).
Every new film is just the tip of another ice-berg, revealing only further depths of art and beauty. One of my biggest regrets about this blog is that I haven't documented this journey into live-action nearly well enough, so, I'm sorry about that, guys, but this post, I hope, will at least go some ways to making amends, because last night I watched Air Doll and just had to write something.