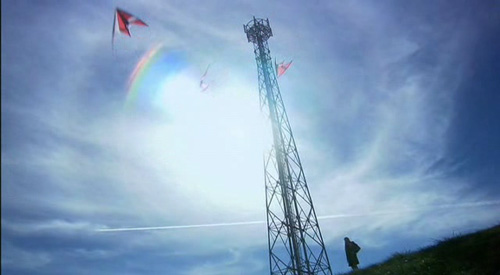 Back in June, I reviewed a Japanese live action film called Linda Linda Linda. It was a great movie, so great, in fact, that it encouraged me to dig deeply into the depths of Japanese cinema. Since then, I've been working my way through the recommendations in the comments of that post. It has been a joy to explore an area of film that, until a few months ago, I'd barely even scratched the surface of. It's all so new and exciting, and confirms something about me that I've always suspected anyway, that, rather than being a fan of just anime, I'm a fan of Japanese cinema full stop. Be it the vivid style of filming, the use of music to accentuate emotion or the emphasis on character over plot, whatever it is, it's an abstract, bitter sweet quality that really helps me escape into the "ether" of imagination.
On Tuesday night I watched a film called All About Lily Chou-Chou. Sometimes, if I can catch a good movie late at night, I'll go to bed right after it finishes and find that even my dreams are trapped by its influence. On Wednesday morning, I woke up feeling groggy and restless, precisely because I couldn't shake my thoughts from this film, so, I had to write about it, no choice, really.
Just going back to how I felt about Linda Linda Linda, it was a bright and romantic ode to youth, more akin to a dream than reality, in love with (the memory of) being young. Similarly, All About Lily Chou-Chou is about Japanese school life, but this isn't a happy film, the kids are cruel, hopeless and sad, yet presented in such a way that is beautiful; lush green fields and bumpy concrete roads are fine company for despair.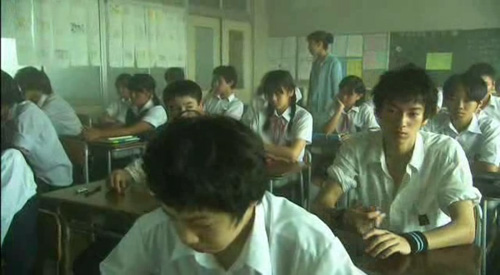 At school and after, Hoshino and his gang pick on the shy Yuichi. They beat him up, take his money and embarrass him in public. During one particularly harrowing attack, they trash Yuichi's bike and force him to strip naked and masturbate in-front of them as they throw stones and jeer. That is their reality, Hoshino the bully has lost faith in life and Yuichi the victim has no courage. Yet they both passionately admire a singer/song-writer called Lily Chou-Chou and hang-out on the same Lily Chou-Chou internet forum, often chatting online with each other anonymously, sharing their mutual passion for her music and explaining how it inspires them with such vivid and strong feeling. They become friends online. Spiritually, Hoshino and Yuichi are good friends, but when they meet in reality, with their true feelings concealed from one-another, they hate each other. It's a contradiction of truth and a very sad, very human tragedy.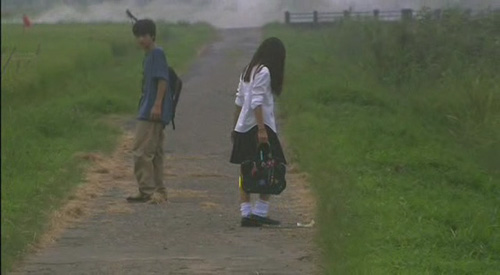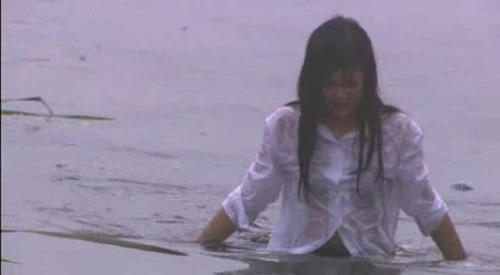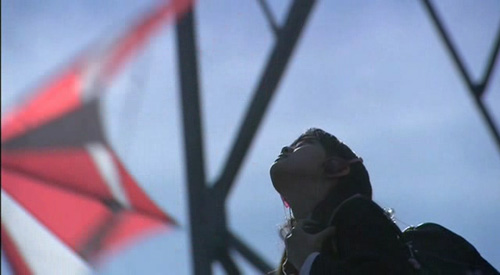 Another of Hoshino's victims is a girl called Tsuda, he blackmails her into becoming a prostitute. We follow her on one of her 'jobs'; a date with a middle-aged salary man. In the immediate aftermath, she doesn't seem to be particularly effected, it's only when she is almost home that she breaks down and loses control, literally stamping her pay into ground and soaking herself in a river near-by. That's the kind of person that Tsuda is, she might portray herself as strong and streetwise, but it's all just a mask. Deep down, she loathes herself for being so weak as to go along with Hoshino's blackmail, yet pride prevents her from crying for help. She yearns to be free, desperately so, and in the most bitter sweet scene of the film, stumbles into a kite flying club, almost overcome with the euphoria of just watching them glide in the wind, so carefree and simple. "I wanna fly in the sky", she said.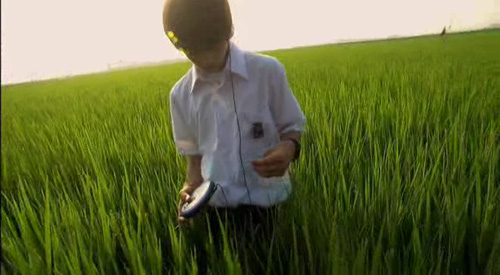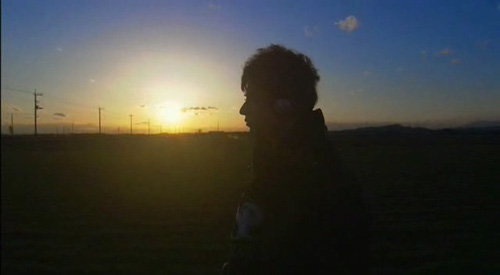 At two and a half hours, it's a long movie, packed with intimate character vignettes and filmed in this very personal, modern style that is a feature of Japanese cinema, it's very cool looking. It's also slow building, sparse in dialogue and, at times, hard to follow, as the narrative jumps back and forth in time and names and faces come and go. Even still, it has an ethereal quality, an atmosphere that quietly fades in and envelopes us into this world of bitter sweet reality, I could almost describe it as an out of body experience. Anyway, All About Lily Chou-Chou isn't a nasty film; it doesn't delight in the suffering of its characters. It knows that life can be harsh, yet has moments of beauty too.