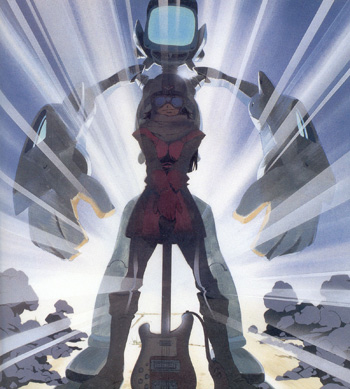 For whatever reason, I've spent the last few years trying to share my passion for anime, hoping to establish new fans, dreaming of a day when I could turn on my TV and find, say, Escaflowne lining up along side The Sopranos. I guess I want more people to understand anime and to know that it has more to offer than its stereotypical reputation may suggest. I think that's what drives me more than anything else, that sense of injustice, the idea that someone would presume to ignore all anime simply because Pokemon sucks. I want to prove them wrong.
The context of this editorial is an exciting new development for the UK community; we're getting a completely dedicated (not to mention free!) anime TV channel called "Anime Central"; come September, it will be accessible to millions of digital TV subscribers. Further more, the schedule reads like a dream, matching classics of the caliber of Cowboy Bebop and Escaflowne with new favorites like Planetes and Fullmetal Alchemist. It's the moment we've been waiting for; now or never.
Perhaps I should be careful, what if I get what I wish for? What happens when anime is embraced by the "mainstream", becomes "cool" and everywhere I look, I see people showing off their NERV t-shirts. Don't get me wrong, I love anime and always will, but I suppose a part of what fuels my fascination to such a degree is that it's so obscure; since I can sit in a crowd of hundreds of people and know that I'm the only one that's watching Gurren Lagann, I feel almost duty bound to recommend it; hence this blog and all the rest, that innate need to scream "anime" from the roof-tops wouldn't exist if there was no-one worthwhile left to convince.
I must admit I'm fascinated by the populist reaction to anime. We've all heard the cliche opinions (anime is porn, didn't you know?), but now that the masses are getting real exposure to the good stuff (either via TV or the net), I wonder about their reaction, whether or not they will see the light? Or if in the end, it takes a special kind of person to be attracted to anime, a specific taste that will forever confine it to the small niche of dedicated otaku?