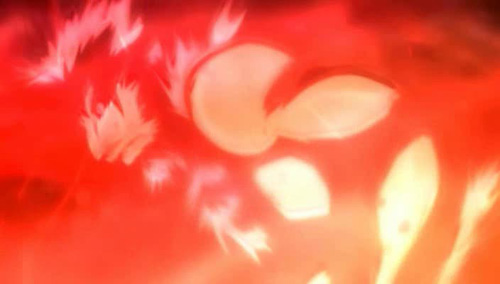 I'm really digging Claymore at the moment and each episode is ending on the kind of gut-wrenching cliff hanger that so tempts me to gorge on manga spoilers. Episode 21 is no different; Ligardes is one of the coolest awakened beings yet — his intimidating part-lion transformation perfectly emphasizes his quite unfathomable strength and speed; he radiates killer-instinct and I haven't a clue how anyone, including Claire, can escape his relentless lust for blood.
My main problem with the series is that it hasn't been great at building sympathetic characters but after episode 20, I was totally rooting for Undine; at first she seemed like a heartless bitch, but it turned out her abrasive personality and pumped up muscles were all superficial fronts. The scene of her cowering in the corner; shivering, crying and completely exposed immediately transformed her personality. That she dies in episode 21; killed so quickly, no fan-fare, just death, felt shocking and disappointing, but also made it clear that this ain't no picnic. How can anyone beat Ligardes?
I must be one of the few people to like Raki. I like that he's weak, but willing to learn. I hope he becomes strong or at least capable of cutting down the generic yoma. I'm not sure what to make of his contact with Isely and Pricilla; why haven't they killed him? I sense they are more than just superficial bad guys and knowing what monsterous power lurks beneath their skin, I'm quite fascinated by their passive attitudes towards him.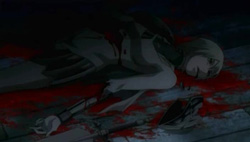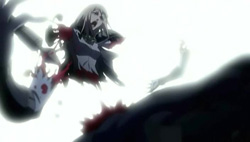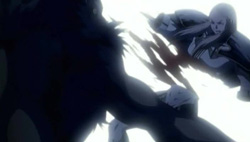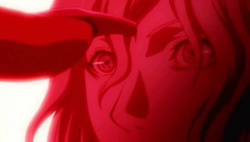 I loved the build up to the second wave of attacks on Pieta. The silence of the Claymores as they sensed demonic energy on the horizon; the sound of the wind and the blizzard while the awakened beings howl in excitement of battle and then the reverberating bass of their gigantic foot-steps as they near their prey — it's almost Lords of the Rings-esque, such is the tension in the air. In this moment you can't help but pity Claire and co., they may well be doomed.