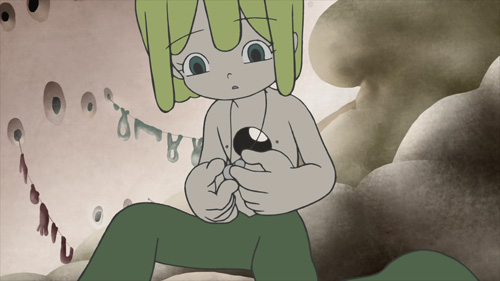 Apologies, I know things have been quiet around here of late. While everyone gets so excited about all this new anime airing in Japan, I just get tired of it. There's too much to watch, too much to read and too much to say. It tires me out just thinking about it, so, despite having downloaded first episodes of 9 different anime last week, I've watched merely two. One was Code Geass, which, true to form, was great, stupid fun, and the other was Kaiba, a show I've been anticipating since, well… forever. But wait, Kaiba hasn't been fansubbed (yet), right? Such enthusiasm forced me into yesterday's impulsive decision; I decided to watch it raw. For the record, my understanding of Japanese is next to nothing and never before have I bothered to watch anime untranslated, but, at this point, I may as well just quit anime blogging if not inspired by something like Kaiba, something that's so completely new. Code Geass R2 isn't new; it's just the same old collection of genres with a different lick of paint. Mecha, shonen, shojo, moe, harem, sports, we've seen it all before, but let me tell you this, you've seen nothing like Kaiba. Asked to describe the story, director Masaaki Yuasa mentioned suspense, romance, science fiction, comedy and action, and depending on your perception, it's all of that, or nothing, but at least it's new.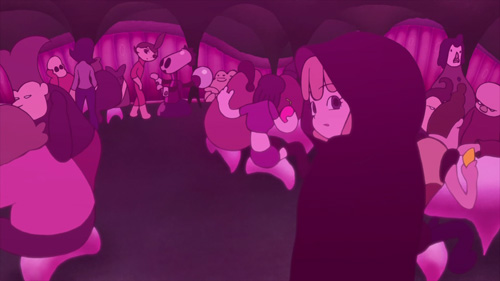 I won't bother with an extended episode synopsis, as aside from my noted lack of comprehension regarding the Japanese language, Owen and BluWacky have recently posted some fine coverage on their blogs too. All I really want to say is that I liked it, a lot. With an aesthetic that's part Astro Boy-era Tekuza, part Flintstones, it certainly looks different. It's nothing like Yuasa's previous work, Kemonozume, where the characters were grungy, gritty and blue (in the greasy, erotic sense). Here, the designs are clear and bright, as if lacking sophistication, an obvious ploy to violently contrast a playful, child-like aesthetic with a disturbing reality tainted with memory-stealing and body swapping. I'm reminded of Roald Dahl's twisted style of storytelling, especially The BFG; all the excitement of Sophie's wide-eyed adventure into a hidden world of friendly giants, offset when she discovers that they munch on humans.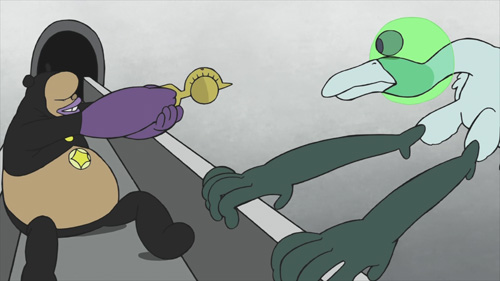 The evocative visuals are well-matched by a soundtrack that's ambient, electronic and artificial, yet emphasizes the fantasy and excitement on screen. In truth, it's wonderfully apt for Kaiba, as a story so removed from reality shouldn't sound familiar or contemporary; in particular, the opening and ending sequences are beautifully presented; setting the tone for what is an escape into a dream-like, distant plain of imagination.
People might think I'm talking this up because it's different, because it looks weird. If that were the case, I wouldn't be writing this now. It's true that it's unconventional, you won't immediately feel empathy for the characters, or understand their feelings. You have to be prepared to submerge yourself in Kaiba, to accept things that might be unrealistic and weird. In this sense, it's absolutely authentic animation; the product of boundless imagination, and it works because, despite everything, it still feels human; funny, weird and sad. I hope you like it!