I was always going to like Kaiba. Even before it started airing, I had, somewhat dangerously, convinced myself that it would be good. After all, with someone like Masaaki Yuasa directing, I had to expect it would special and well, some five months later, here we are again, I just finished Kaiba this weekend.
Lets allay some fears right now. Despite its polarizing visual style and artsy pedigree, Kaiba absolutely isn't high falutin or pretentious, it is heartfelt and emotional, exciting and twisted, and most of all, character driven. It's true that Yuasa occasionally indulges in daunting surrealism, no doubt the last episode is a testament to that, but I really hope that you watch Kaiba, because it is lovely.
Well, that's a half truth. Kaiba is lovely, and sweet, and romantic, but it's also tragic, and sad, and harsh. I'm recalling a line from Kino's Journey that comes to mind, that "The world is not beautiful, therefore it is". This is Kaiba, I think. An idealistic, almost child-like search for some meaning in life within a universe where human memory, the very essence of individuality, is ephemeral, readily transferred into tiny, fragile metal chips and where dreams are copied, fabricated and deleted.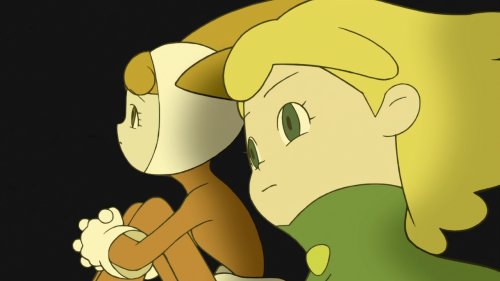 People are weak little things, really. Our dreams are many, and many of them are impossible, but we strive on anyway. One watches Kaiba and feels this romantic melancholy for life, that every person, all of us, might as well be reduced to a grain of sand on a golden beach, one of countless millions, yet we all keep on believing that we can make a difference, or do something important. Sometimes we find happiness, other times not. Kaiba is beautiful for allowing a human life to blossom, like how a flower might sneak through the cracks of a concrete road, only to then be crushed underfoot. A life that was once so hopeful can be extinguished in an instant, lost forever, just another grain of sand. But if life is so insignificant, what is the point of living? Why not just give up?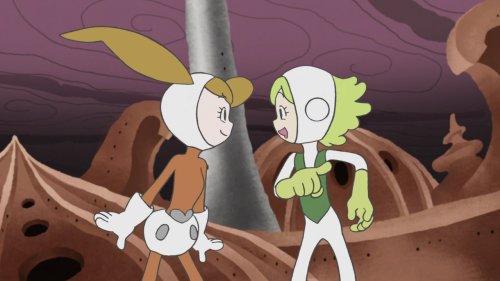 Above all else, Kaiba is a love story. When Warp and Neiro fall from their lost palace and slip into the amnesia cloud below, Warp's only concern is for his beloved Neiro's memories, even at the cost of his own. They roll around in Neiro's room, drunk, happy, absolutely content within the intimacy of the other's company, they remain scared, fragile and lost, but they have each other, and that's enough, I think. Likewise, Popo only realizes the hollowness of his rise to power after his last remaining friend has had her memories erased, "Don't forget me!" he screams, but it's too late, everything he strived for has been forgotten. We live for each other, a mother for her son, a boy for his friend, one lover for another. That's why giving up isn't an option, our dreams might be hopeless, but they keep us alive long enough to find a friend, a kindred spirit.