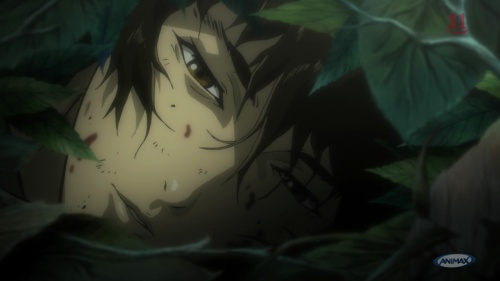 I had high hopes for Kurozuka, because it is a genre of anime I tend to enjoy, that being stylish, far-fetched, visually-intoxicating science fiction.
It is a beautifully drawn journey, in-which 1,000 years of vampiric romance sweeps across the Heian period of Japan to the bombing of Japanese cities during World War 2 to a post-apocalyptic future, but as the constant streams of action rush over the despairing atmosphere of the first half, it's just a shame that the story's poignancy seems to fade. That is not to say that Kurozuka isn't good, because it is; it has some moments, and they are great.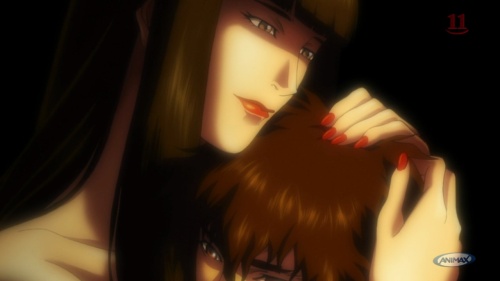 Particularly disquieting is the image of Kuromitsu's naked body wrapped around her lover Kuro's severed head. Tortured by his eternal life, he wants to die, but loathe to be alone, she won't ever allow it. Kuro's life has been utterly consumed by Kuromitsu; forever trapped within her serpentine embrace, subjected to her every whim. One can only conclude that if love is a scary thing, then eternal love is positively chilling.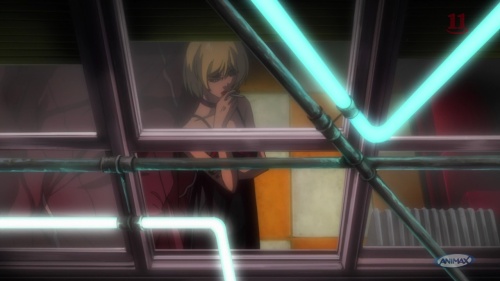 I also want to note that the first half has a particularly industrial and dystopian feel. Much like the quiet wanderings in Texhnolyze, Ergo Proxy and Blame!, Kuro's many urban sojourns are quiet and contemplative affairs. The cities of the future have fallen into decay. Neon lights, concrete bricks and rusting steel grids scythe through murky buildings and even murkier corners. Their peoples are starved of hope, laying the streets, waiting to die. In such a scene, one can observe every tiny little detail of the city and sample the deep-fried life that courses through its veins.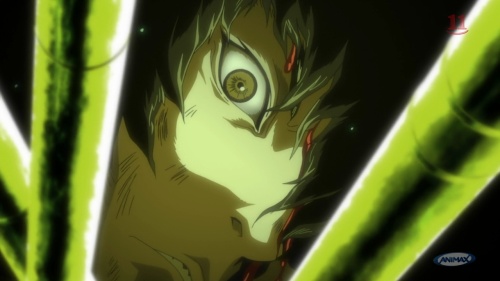 There is a style to Kurozuka, an unabashedly violent streak, a harsh, cold beauty, that I admire. Most of all, it is a visual experience, and there's not much else to it than that, but I've always found it enough to see something beautiful, or something provocative, twisted and weird, and wonder.