Senkou no Night Raid is at a glance a show with great potential, beginning with its unique setting: Shanghai, 1931.  Japanese occupied China showcases the height of Japan's imperialist power and ambition.  However, the show cries out for an in-depth commentary on Japan as an imperialist power.  Such a narrative would provide a window into how people in Japan currently feel about the period.  The Japanese are clearly still very sensitive and defensive. Even 60 years after the end of WW2, whenever China or Korea reflects on an embarrassing colonial issue, like Korean "comfort women", the Japanese forcefully deny official government involvement.
Even though Night Raid is only half way through its television run, there has been little evidence so far that its creators are willing to delve deeper and do a critical examination of Japan's colonial history.  In 1931 Shanghai's citizens were seething with resentment, both at the failures of the Chinese army and the indignity of Japanese occupation.  Instead of recognizing this, Night Raid paints a happy picture of occupation, almost as though the occupation should be remembered as a happy time in history. If it weren't for some of the show's "city folk" speaking Chinese, you might even forget the show was set in China.
The show is actually very similar to Darker than Black. I would classify Night Raid as an action/spy series, featuring a small team with super powers who complete missions for the Japanese government.  Each episode weaves in a back story about the characters that explains their motivations for joining the army and fighting for Japan.  The missions provide a small level of amusement, the interaction between the character's powers is fun to watch, and the animation quality itself is excellent.  The noir aspect of the show reminds me of Baccano!, but the show lacks both Baccano's strong story and its deep characters.  Plus, it is hard to pull off a noir, spy drama when one of the team members is psychic… it doesn't take an ace detective to solve a crime when you can read the suspect's mind.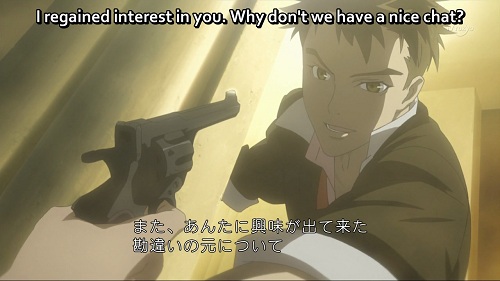 All that would be forgiven if the show displayed the kind of political overtones that would have made it unique.  At most, it leaves a modicum of hope that the creator's will address the political undercuts in the second half.  By about episode 6 the only hints the show provides that tensions simmer between China and Japan is a scene of momentary panic by the city's residents when a bomb explodes, triggering a mob rush fearing that war is upon them.  These come far too late in a 13 episode series, a show that could have provided a rich glimpse into the Japanese psyche instead will at most scratch the surface of how the Japanese feel about their complicated history.  I suppose I'll have to hope for a second season.