If just because there's something exciting about proving yourself wrong every now and then, I'm trying to watch a bunch of recent series that I've snubbed or otherwise ignored in past. This all started when, on a whim, I began watching the kendo anime Bamboo Blade and felt stupid for ignoring it for so long.
Ga-Rei -Zero- is another amongst those I'd passed over in recent years, and, well, it's a violent story about monsters and stuff, too! If nothing else, I knew I'd get to see some weird creatures breathing fire and crushing people underfoot!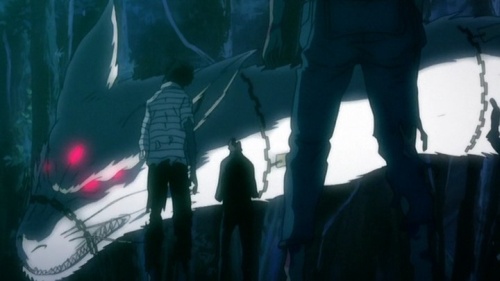 Having now seen the whole lot, though, I will freely admit that it's also quite good, let down only by the occasional lapses into weak humour and illogical, frustrating angst. It's the kind of show where the lead character, Kagura, is forced to kill her demoniacally possessed (now-cannibal) school nurse, only to be guilt-tripped by her dumb class-mates for having done the deed, the very same weepy girls the school nurse had been trying to bash to death just seconds earlier. It's also a show where Norio Wakamoto is voicing one of his non- Mechazawa funny characters and, sadly, isn't very funny at all.
Alas, I'm only complaining because, as a whole, Ga-Rei -Zero- is like Natsume Yuujinchou's evil twin. At the centre of both are characters in contact with the 'spirit world', but where Natsume's spirits are fundamentally well meaning (if just a little misunderstood,) Ga-Rei -Zero-'s are snarling, fanged hell-beasts. As is evident in the first two episodes in particular, the show takes no prisoners; characters are painfully maimed or outright murdered, many of them good guys trying to do the right thing but just in way over their heads.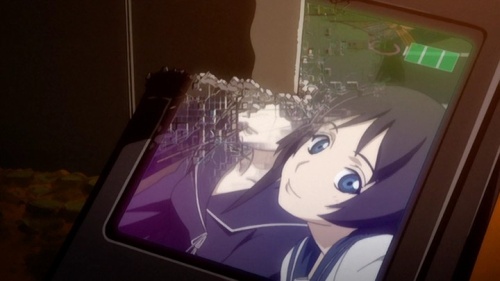 At its best, Ga-Rei -Zero- is completely unpredictable. Swords are mechanically propelled through the air, as the gradual fall of Yomi, the series' truest villain, culminates in a number of deliciously cold, over the top face-offs versus dear fiancés and best friends (no sympathy is spared.) The craziest of all has to be when (a recently-turned-evil) Yomi fights her wheel-chair bound chief, the wheels spiked and zooming around at a crazy rate of knots; one of her legs, it emerges, is prosthetic and sheaths a machine gun (attached to the stump, of course.) I'll admit it, I laughed.
It's a series at its most infectious and fun when chaos abounds and heads roll, so much so that it's a shame when it inevitably slows down and delves into episode long bouts of guilty consciences and high-school hijinks (all in the name of 'character development' (yawn,)) but with only 12 episodes to spare, that's hardly enough to ruin what is an exciting and bloody spectacle.