Unless you count my yearly flings with Football Manager, I've never been much of a gamer. Even still, I bought myself a Playstation 3 in December.
Stepping into today's world of consoles is intimidating at first. I'd been divorced from the culture for nearly a decade and knowing how deeply some are into it, it's easy to get cold feet.
I had to try, though. I wanted to play Shadow of the Colossus.
After stumbling over a review of it one day at work, I made the impulsive (and, obviously, expensive) decision there and then to buy the game so as to have a proper look.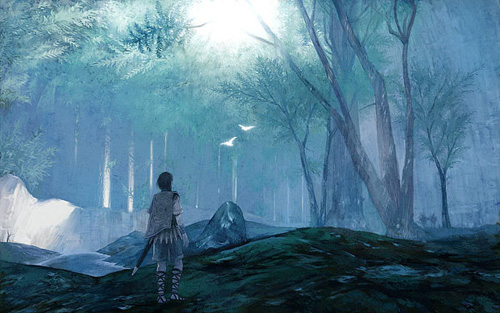 I'm a slave to aesthetics, you see.
I love minimalism in design and there's an elegance and simplicity to Shadow of the Colossus that I found instantly appealing.
Much time in the game is spent travelling. Often I'd yearn to go back to wandering its quiet landscapes when trying to topple a particularly difficult colossus.
The colossuses make the game what it is, though. Upon meeting them, I felt awe. They are beautiful things, strange, other-worldly wonders, appearing magical and sacred against the wide-open deserts we ride amidst.
First catching glimpse of a colossus is akin to a waking dream, such is the shock of realising that you need somehow to defeat this beautiful, intimidating thing lumbering towards you. It's hard not to just sit and gaze.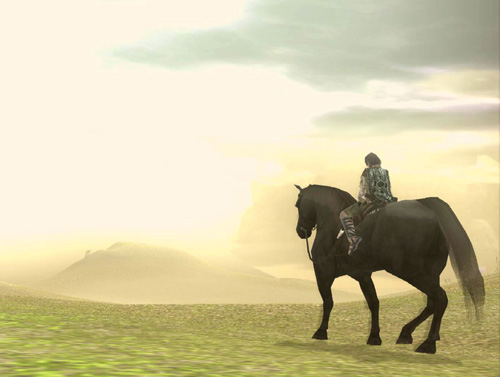 I think I fell in love with Agro, the horse, as soon as I coaxed her towards me.
Like Yakul in Princess Mononoke, much of the game's beauty is channelled through our interaction with her; she's our truest companion, and silent witness to the journey we find ourselves caught up in. In a place filled with surreal wonder, she's our only link to the world beyond the misty mountains.
The soundtrack, too, is gorgeous. In my mind, I've always connected Kow Otani with Haibane Renmei, but this is better than that, being so sweeping and emotive and just huge.
It perhaps symbolises my naive attitude towards video games when I say that I was surprised by how good this soundtrack actually was and how much it immersed me in the story.
Towards the end, my heart began to flutter. And then sink, as I lost my dear ally.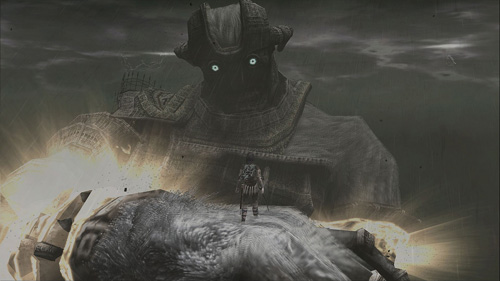 These are my impressions of playing the game, but if truth be told, I'd fallen in love with Shadow of the Colossus long before I'd actually touched it, which is a hell of a pretentious statement to make, yet I just look at the images taken from it and my imagination soars, even now. In the clouds.
I think I've finally seen something here that changes the way I think about video games. About time, too. (And if you have recommendations (particularly for games similar to Shadow of the Colossus,) they are more than welcome!)