For a while there, I stopped believing that the anime industry was capable of crafting shows like Space Brothers (Uchū Kyōdai.) When I seriously started getting into anime, there were series like Planetes, Gankutsuou, Monster and Mushishi all being released in and around the same time. These were series not influenced by other anime and not trying to pander to an existing fan-base. At the time, I seriously thought anime would take over the world.
At some point, though, the bubble burst, and suddenly the idea of a 74 episode murder mystery set not in a Japanese high school, but in mid-Nineties Germany with barely a teenager in sight, seems more like a joke. It's all the more remarkable, then, that a series like Space Brothers is actually being made right now: the story of a bunch of middle-aged adults chasing their dreams of becoming astronauts.

It airs every Sunday at 7am in Japan, so in terms of ratings, I'll hazard a guess that it probably isn't doing too well. Even still, it's said to be going beyond 26 episodes, so there's clearly some money behind the project in the same way that there was for Hyouge Mono. Both are based on award-winning manga, which might explain their prestigious treatment.
Anyway, there's nothing artful about Space Brothers. It's at the opposite end of the scale to something like Mawaru Penguindrum, where everyone is pretty and scenes drip with symbolism. Most everyone in Space Brothers is ugly. There's no directorial sleight of hand. It's about as basic as anime gets.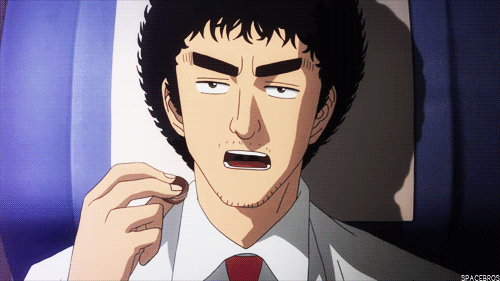 Basic doesn't mean bad. It's just easy to follow. Try as he might, guys like Mutta are incapable of putting on airs and graces. He head-butts his boss and flushes red when talking to his crush. He's just a messy, honest guy. The gritty (which is just another way of saying ugly, really) presentation of Space Brothers reflects the honesty of the emotion we see in the characters. After all, what's more honest than chasing one's dreams?
I don't often laugh at jokes in anime, but I laughed when Serika's stomach grumbled and all the other characters presumed it was Mutta. Their group of 5 (Serika's the only female) are holed up in a JAXA training facility, isolated from the outside world (and sunlight!) for weeks on end, and only 2 of them can pass to the next phase of becoming an astronaut. Amongst them is a 55 year-old who has spent his life trying to reach space, sacrificing his relationship with his daughter along the way.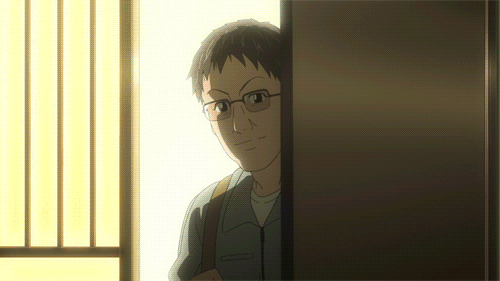 There's no getting away from how sad that is, but that's life, and it's to Space Brothers' credit that while the idea of chasing one's dreams has a sense of romance to it, the reality is often quite, well, ugly. Add to that funny, honest, sad and inspiring. Just please watch this anime!