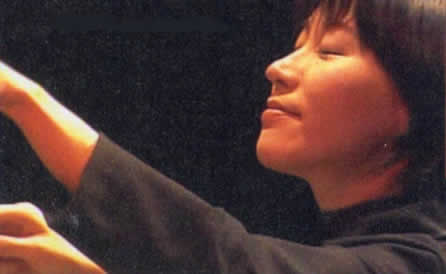 I'm a big fan of Yoko Kanno's music; be it the atmospheric electronica of Macross Plus (1994) or the acoustic style contributed to Wolf's Rain (2003), it's hard to ignore the core emotional beauty of her work; a quality that, not matter which musical style she borrows, ensures that she captures our attention (and often, hearts too!). For the means of this poll, I picked out three series which distinctly represent Kanno's diverse talent.
For example, lets consider her soundtrack for Vision of Escaflowne (1996), an epic and exciting orchestral set ("Dance of Curse") that emphasizes fantastical themes of life-changing conflict. Then we have Cowboy Bebop (1998), arguably a career defining fusion of American jazz and blues; cinematic, moody and bitter-sweet ("Adieu", "Space Lion", "Rain", "Blue"), it's a superlative collection of songs that undoubtedly have their own story to tell and stand alone as great music, regardless of Cowboy Bebop itself. Finally, we have Stand Alone Complex (2002); this time it's an interesting mash-up of her previous work. Being scored for science fiction anime, there is an overriding use of up-tempo and rousing electronica ("Cybermind", "Rise") as well as dreamy vocal tracks ("Christmas in the Silent Forest", "Psychodelic Soul", "Mikansei Love Story") that echo an ethereal trip into a starry-eyed unknown. For the means of this vote, I ended up plumping for "Cowboy Bebop", but I particularly love a lot of her work for "Stand Alone Complex" and if just for beautiful "Voices", I was tempted to include Macross Plus too.
At the time of writing, Kanno's most recent effort is Darker than Black (2007); being another attempt to capture an American rock feel, it's doomed to living the shadow of Cowboy Bebop and rarely reaches the emotional heights we expect of her craft, only "ScatCat", "Kuro", "Deadly Work" and "In no Piano" hinting at the beating heart hiding beneath the superficial front of up-tempo, slick rock and muzak.
It's also interesting to note that whether coincidence or not, a high number of Kanno's soundtracks have contributed to landmark anime productions; I need not extol the virtues of the likes of Cowboy Bebop or Escaflowne, but I do wonder if her presence elevates and influences those around her to create the kind of anime that will be remembered for years to come.