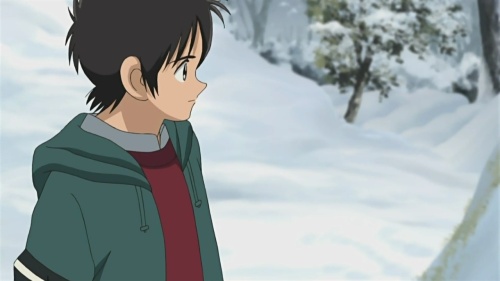 When writing about Fullmetal Alchemist: Brotherhood, I noted that I think it's great because it has moments of exciting, fluid animation. I realise that's a fairly superficial thing to say, but I think it's true, too, and now, as if to immediately contradict myself, I'm going to write about Cross Game.
This doesn't have great animation, but it's probably going to be one of my favourite series of 2009, because a delightful story is always delightful, regardless of medium, and because I'm really into these characters. This has nothing to do with being swept up by some soapy drama or romance or whatever, rather, I like it because it's understated.
Cross Game is a quiet series, so quiet you can hear the wind breezing through fallen leaves and hear the snow crunching underfoot. At its centre is Kou and Aoba; there is no blurting out of their feelings or forced confessions of love, everything remains unsaid, unrealised, with just a moment of hesitation here and a shy glance there.
Their feelings are protected, hidden even from themselves. They have a determination about them, yet seem introspective; they remember things, tiny, stupid, important, vital things, like we all do, before clamming up again. It's sweet to watch them blunder through uncomfortable situations, but reassuring, too. I think we've all been there, spent a lot of time observing people and watched as the days draw into night. Life can be so understated, and such is Cross Game, it's so quiet.