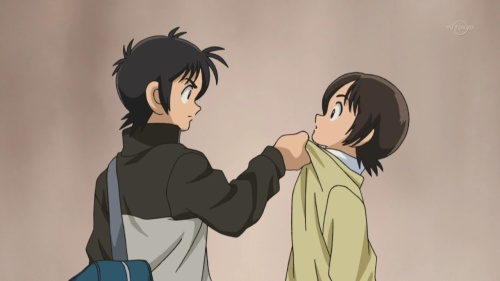 I wasn't aware Mitsuru Adachi (mangaka) even existed until the spring season of this very year, but all that changed after I'd seen the first two episodes of Cross Game. I realised I'd missed out on a lot of great anime of his and, to fill the gap in-between episodes of Cross Game, I started watching Touch too.
It's a bit weird following both these series at the same time. At first, I was having trouble telling them apart. Despite the near 25 years separating their broadcasts, they are so similar. Both revolve around high school baseball, both place a stronger emphasis on emotion than action and both are noted for the tragedies that change the lives of their main characters.
Also, both are great.

I've wanted to get that off my chest for a while, but I've also been wondering about how I might compare the two. It's not easy because Adachi's loyalty to realism means that many of his male characters share similar traits, but then I thought about his use of female characters too.
In Touch, we have Minami. She's your 'typical' perfect girl. Pretty, well-mannered and conscientious. She's good at gymnastics, cooks for her father and studies hard at school, yet her friends and family talk openly about who she might marry in the future as if she's incapable of living her own life, as if all she need do is follow their orders and everything will work out for the best. What's worse is that she's content with all of this, it's just a part of the normal life of a girl growing up in Japan in the 1980s.
Aoba of Cross Game is like the antithesis of Minami; she's rude, hard-headed and competitive. She's also an excellent baseball pitcher, but destined never to play in an official game because of her gender. She isn't living a girly life at all; in fact, and much to her annoyance, Aoba's so bad at cooking that Kou has to take over!
The boy is cooking for the girl!
If one can take Adachi's writing as a realistic reflection of Japanese society, then, obviously, Aoba's way of doing things can be taken as evidence of the progression of gender roles in Japan over the last 20 years. It's not that I think Touch is intentionally sexist or anything that heavy, but rather, I think it's just a product of its time, as is Adachi's reflective style. Both series are exciting, compulsive and heart-warming, with or without gender politics, but it's interesting to note how the ideas of one man, and by extension, the institution that shelters him, have gradually shifted over the years.