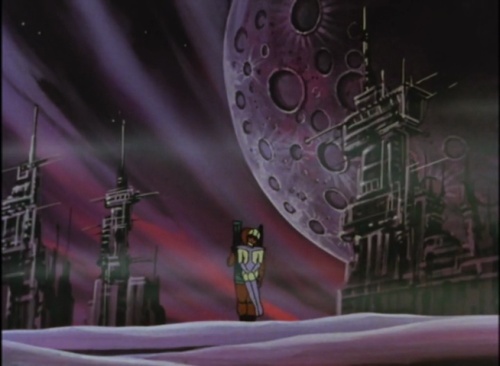 To be honest, I doubt there is much I can say that will convince you to take a look at Armored Trooper Votoms. It's an old series, with a heavy emphasis on war. Chirico is no Kamina. The characters are gritty and unrefined. When it can be hard to sit through just the 1 episode, 52 feels impossible, so I couldn't blame anyone for not seeing in this series what I do, because it is most definitely an acquired taste; it's just that I have acquired it.

Being a blogger, I feel like I'm constantly walking this tight rope between accessibility and obscurity. Only a handful of people will have seen Votoms, and even less will be interested in watching it, so, why the hell am I doing this? What is the point if I am just talking to myself?
It's an honesty thing. A big part of why I'm here is to recommend anime worth watching, and my basic opinion is that I think Votoms is good, therefore, here we are. I persevered with this series because I trusted in someone else's opinion, and besides, I wouldn't be a particularly worthy blogger if I didn't write about anime I'm enjoying, right?
I don't usually feel like I have to explain something like that, but this is a particular case where the series takes its time to get going. The arc of Votoms I really want to write about is 'Deadworld Sunsa', which happens to be smack bang in the middle, between episodes 28 to 39.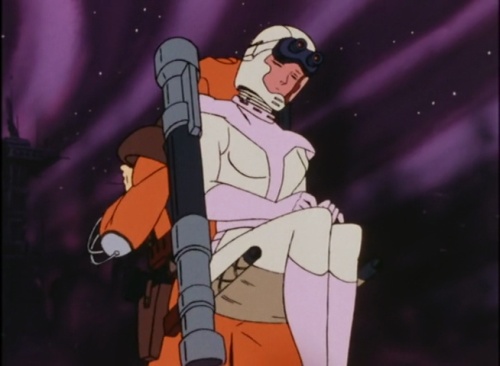 It begins when the main character, Chirico, and his beautiful companion Fyana, awake to find themselves aboard a huge space cruiser. It's completely abandoned, built with a foreign technology, and carrying them towards an unknown destination. Every few hours, without fail, the deadly quiet is ruined by sounds and images of massacre; the screams of the dead and the mechanical clanks of conflicts long since past stream across every monitor, echoing through the huge, empty corridors. They haunt Chirico with memories of his past; he used to be a 'Red Shoulder', a merciless band of soldiers feared for their war atrocities.
At the same time, their cruiser is periodically attacked by outside aggressors seeking to understand and control its many secrets, culminating in a crash landing on the planet Sunsa.
It's a barren land and low on oxygen. Fyana's health deteriorates and Chirico is forced to trek across hundreds of miles of desert in search of supplies, with her strapped to his back.
That is but a bare introduction to the plot, and one that omits many wonderful little details. I mentioned before that Chirico carries Fyana across the desert, the act in itself a heart-rending thing, but even more so in the way that Chirico carefully fashions her chair from assorted scrap-metal, which he then attaches to his back. It's probably the first time he has created anything intended to help, rather than destroy, and being a fairly reserved guy, it is, in such a lovely and indirect style, Chirico's own way of showing how much he cares about Fyana.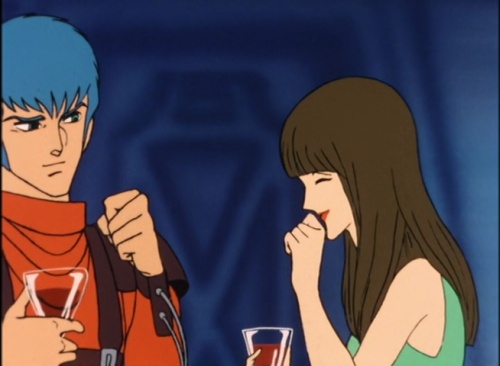 I have noted one particular line in the opening theme that I think poetically captures the essence of Votoms; it reads "choked by the scent of flames that seems to cling to me", which is so apt. In one of his final exchanges with arch-nemesis Ypsilon, Chirico advises that "there is no glory in combat". Ypsilon is a prideful warrior, born and bred to fight, and dares not contemplate what else there is to life, because without that scent of flames, he has nothing.
I'm finding this a difficult series to recommend because it's visibly aged, long and slow, but I want to recommend it anyway, because it's intelligent, serious science fiction with a strong sense of purpose, which is a genre I'll always love. It starts out good and gradually gets better, but it requires effort too, because you won't fall for these characters immediately. It takes time, and I think you know by now whether or not you're willing to grant that. I'm at a point where I've seen most of the well-known classics of anime, where all that's left are these more obscure, unknown quantities. Votoms is one of those; far from perfect, yet written well enough to be remembered.