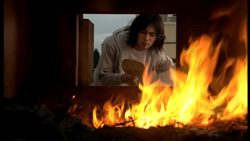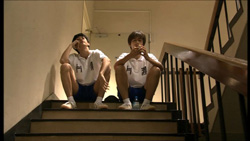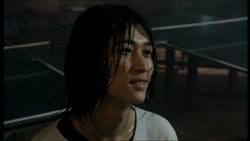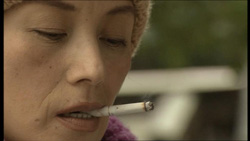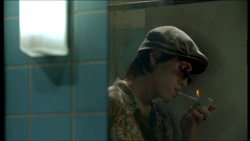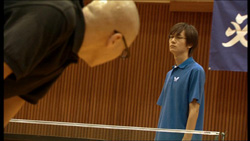 Table tennis, ping pong, whatever you want to call it, is a specialist sport played mostly by an enthusiastic collection of hardcores, eccentrics and oddballs. Examining the game with unloving eyes, all you may uncover is a baffling blur of squeaking shoes and pumped up grunts. So, amidst this boring confusion of pings and pongs, we miss the compelling battle of wits taking place; that moment the winning player realises he can fly, while his losing opponent watches his cherished dreams come crashing down around him.
Ping Pong (2002, YouTube trailer) is a Japanese live action movie penned by the legendary manga-ka Taiyou Matsumoto, and there's no beating around the bush here, it is one of my favourite films of all time; a charming and philosophical portrait of human nature painted by an eccentric quartet of characters in love with ping pong. Here's why.
At the centre of the story are two teenaged best friends; Peco (Yosuke Kubozuka) and Smile (Arata). They are both preciously talented table tennis players who seem to struggle when under pressure. Goof-ball Peco dreams of becoming the best in the world, but blows off practice to gorge on junk food, while Smile doesn't care about the game at all; he only plays to hang out with his best mate. They've shared a strong bond of friendship since childhood because Peco saved Smile (so named because he never does) from bullies, thus Smile idolises Peco as his hero; some one who, when the world's about to end, saves the day.
The two other most notable characters are intense, aggressive skin-heads; nicknamed Akuma (Demon) and Dragon. Akuma is a hack player with no talent, but so desperately wants to be good, while Dragon is the local champion but works so hard at training and practise that he's lost all love for the game; despite winning it all, he never smiles.
Ping Pong is punctuated with colourful humour, a fist-pumping soundtrack (with a lot of music from SUPERCAR) and a lot of exciting (CG-assisted) action, but its true brilliance lies within its characters, who in distinctive Japanese style, grow to embody their own particular philosophical flavours.
Peco is running from Smile's admiration, afraid of not living up to the expectations of his friend, while Akuma, try as he might, can't accept that his talents lay elsewhere. Even Dragon, the champion, locks himself in a cubicle through out tournaments because he gets so envious of players with real ability.
It feels so heart-filled and compelling because these are issues that transcend the sport in question and impact on us all; some of us want to be the best at what we do yet hopelessly fail, others may be talented but flit it all away, we can even try so hard that we lose sight of whatever made it fun in the first place. Ping Pong is about learning to fly, or in other words, growing up and realising your place in the world; it's a moving, eccentric and funny film that I hope you run out and pick up right now.