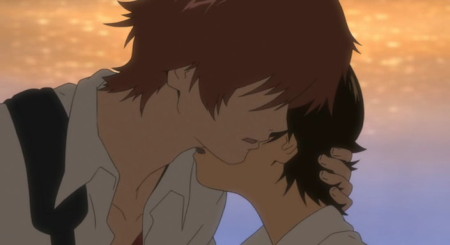 If a good movie is hard to come by, surely a good anime movie is like one in a million; what a relief then, because for now, my long search is over – The Girl Who Leapt Through Time is that one in a million. Dubbed in some quarters as the anti-Ghibli, it offers a refreshing emphasis on characters over expensive-looking visuals, and as a result, we are left with a film that may look decidedly uncinematic, yet engages us on core emotional level above and beyond likes of Advent Children; basically, a rare triumph of good old fashioned story telling.
Now, do you really need me to give a synopsis for The Girl Who Leapt Through Time? My guess is that the title is fairly descriptive, but I'll be helpful and elaborate for you anyway. The girl in question is a tom-boy called Makoto, an eccentric and clumsy Japanese high schooler with two guys for best friends; they hang-out playing baseball, crack crude jokes and lazily make plans for summer vacation. Makoto isn't one to spend too much time thinking about the future; indeed, while her peers worry themselves sick over shaping their future lives, her main concern is how her brat of a younger sister stole her delicious pudding.
One day, a day just like any other, Makoto discovers that she has acquired the miraculous ability to leap back in the time. What's the first thing she does? Goes back to get that tasty pudding; not once, but two times (tastes just as good the second time). Such is her innocence, she doesn't comprehend the world-changing, fortune-making power of her ability; she just uses it to cheat on tests and sing karaoke for 10hrs straight. Life's easy, too easy, until Makoto discovers that her two best friends are actually in love with her.
The Girl Who Leapt Through Time was helmed by Mamoru Hosada, an exceptionally talented anime movie director who had previously worked wonders with franchise pop-corn fodder. His two Digimon movies are beautiful and nostalgic adventures, while One Piece Movie 6 is a notably dark and disturbing nightmare of a film. Such was Hosada's growing reputation, he was offered the chance to direct Howl's Moving Castle, but quit that project (later picked up Hayao Miyazaki!) and ended up crafting The Girl Who Leapt Through Time instead. Brave man!
Hosada's particular talent is to capture the fun and innocence of being a normal kid in everyday Japan and then to set that against an extraordinary adventure, leaving us utterly awe-struck as a standard day suddenly transforms into a magical journey. The Girl Who Leapt Through Time is no different; Makoto and her friends aren't anything special, they aren't angsty punks with tragic lives, they are just standard kids living out their ridiculously normal lives. The soul of the story lies in its characters, the way they talk and act around each other; it's their humour and eccentricities that emphasizes their realistic, heart-warming insecurities about loneliness — everyone is afraid of being alone. The end of the movie is basically an acknowledgement of this fact; the importance of friends.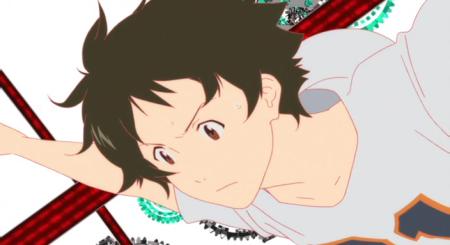 So, what at first seems like a fun and zany adventure quickly transforms into a nostalgic and bitter-sweet romance. It may only run for a creditable 1hr and 40mins, but The Girl Who Leapt Through Time is an engaging and natural drama, sparkling in its use of fantastical magical power as a means of enlightening the wonder-struck soul of a light headed school girl.