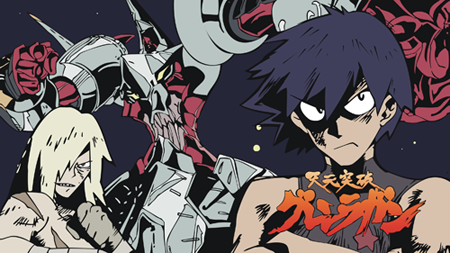 With September in full swing, we find ourselves on the verge of the 2007 fall season. What? Already? I'm not prepared for any of that new stuff yet; it's still too early for all these fall previews, autumn can go fuck itself. On the other hand, I'm still hopelessly devoted to a number of currently running series; hence this post, so end intro and cue this countdown of my favorites.
5. I've seen 3 episodes of Shigurui so far. Put simply, it's distilled hardcore; abrasively masculine, extremely violent and frankly, disgusting. We're talking severed noses, dismembered samurai and man-rape. We see it all. Shigurui isn't another romantic revision of period life, it's barbaric, immoral and borderline pornographic – an unflinchingly lurid exploitation of so-called warriors, whose depravity requires a strong constitution.
4. The opposite could be said of the fading Seirei no Moribito, which in Balsa has a thoroughly good-hearted female warrior. I was smitten with this series after it opened with a trio of action-packed episodes, but since then, it's sadly flattered to deceive. Seirei no Moribito has always offered nice atmospheric touches, alluring fantasy and beautiful art, but it's yet to transcend the exciting emotional heights of that wonderful third episode. Here's hoping the climax is worth waiting for.
3. Another series that's nearing its end is Darker Than Black. It took me awhile, but now I'm thoroughly ensnared by its web of mysteries. I enjoy its Western noir style of presentation – perfectly emphasized by "hard luck" Huang's romantic back story. I must admit, I like "ugly" characters like Jet Black from Cowboy Bebop; forever destined to be knocked down if they dare to grasp at that fleeting chance of happiness. Basically, Huang get my vote.
2. Such is its frightening level of fan-girl friendly bishonen and homoeroticism, the concept of "ugly" and Toward the Terra aren't even in the same vocabulary; yet in a rare example where superficial fan pandering and actual depth come together, here we have a thrilling and rousing adventure that combines its attractive visuals with a fascinating sci-fi journey, the epic themes of war and racism somewhat softened by its elegant shojo aesthetic.
1. I just mentioned "epic" and if one anime symbolises the word, it's the space-time busting antics of Gurren Lagann. The gigantic scale of the action is one thing, but the colourful character interplay and the sharp, heroic dialogue is just as fulfilling. In many ways, it reminds me of One Piece; the humour is ridiculous, bizarre and zany, there is no logical sense of realism, yet the story and characters capture my heart on a base emotional level. Reassuringly at home with GAINAX's wacky influence, it's been a long time since I enjoyed watching something as much as Gurren Lagann.