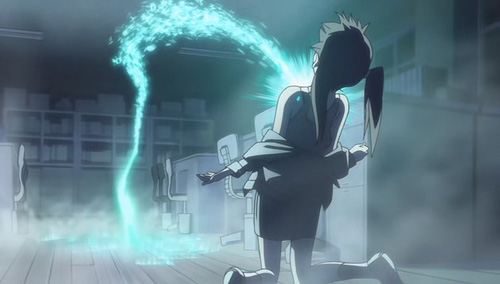 In this so-called modern age, the thousands of miles that separate countries are irrelevant; a shrinking distance covered by mere flickers of electricity. Obviously, our world is merging and cultures are overlapping, yet the distance between you and I remains the same.
Though we may have transcended the physical landscape, the emotional complexity of human nature is still our greatest struggle; our uncharted and unpredictable feelings wedge us apart and create a journey larger than any number of miles could possibly achieve.
In a near-future saturated with baffling technology, the distance between loneliness and friendship is as ambiguous as ever. Many people are weighed down by a past tragedy, wracked with insecurity, feelings of guilt and shame, unable or unwilling to move on. The beauty of forming friendships against all the odds, being capable of opening your heart to another, that is the real journey, and that is quality of Dennou Coil.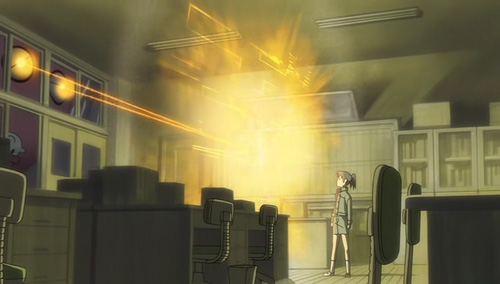 It's funny, well-animated and exciting, yet its finest touch is its comradery; the warmth and caring that underpins almost every motivation. It's a series that flirts with utter heart-break. Both Isako and Haraken fall into this category, their ice-cool facades failing to conceal deep emotional insecurities. Such honesty is only possible with a cast of children, their clear emotions not influenced by the cynical reality of adult life; they can escape into the virtual world and swim in a dimension of imagination.
Too much escapism though, especially in Dennou Coil's visceral world, can be dangerous; children are arguably losing their grip on reality as their minds become confused by the vague lines separating "the wired" from the real; the story (as of episode 18) appears to be building towards the salvation (or indeed, loss) of kids who have somehow become trapped in the virtual world. There seems to be a very vague understanding of the consequences of creating an "augmented reality"; there is little to no information provided on the existence of "illegals" (lively forms of black energy) or metabugs, almost as if the adult creators are irresponsibly turning a blind eye to an entirely new dimension of life.
This imposing level of detail has crafted a breath-taking world, as befitting of a series that has been "in development for over a decade". In particular, the animation and art (especially the claustrophobic depiction of Daikoku City, where the phrase "concrete jungle" is appropriate) is a joy to behold; clearly, the production values are well above the typical anime series. And quite frankly, there is nothing "typical" about Dennou Coil; it's so completely divorced from cliche anime stereotypes that it will probably alienate the vast majority of otaku looking for their "hot girls" or "hot mecha". It's directed and written by Mitsuo Iso, whose "The Children's Night" episode from RahXephon (15th episode) was many people's favourite instalment.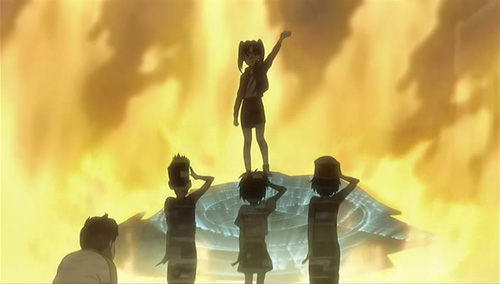 Ultimately, the usual complaints don't apply to Dennou Coil; it's so well crafted and confidently directed that any dissatisfaction is the result of peculiar personal tastes. As we see it all unfolding from a child's perspective, it's perhaps best to describe it as an experience; whimsical, surreal and dreamy. Yet one can't help but feel utterly compelled by the themes of comradery and friendship that underpin the science fiction, these kids trying to enjoy their "last summer" before heading off into the big wide world of adults.