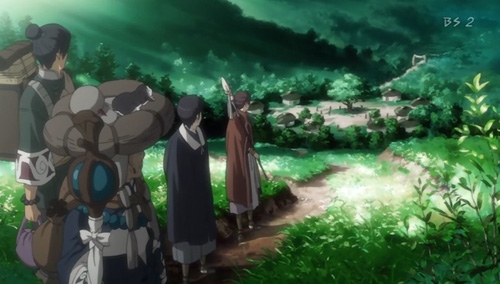 As any fans of Evangelion will attest, it's rare to finish an anime series and find ourselves contented enough to walk away knowing "everything is tied up into a neat little package", yet that is the case with the recently concluded Guardian of the Sacred Spirit (a.k.a Seirei no Moribito). An (evil) part of me will always demand an epic train-wreck, a sensational massacre of violence, death and angst, but deep down, I always knew it would never happen with straight-laced Seirei no Moribito – it was certainly predictable; morally as straight as an arrow, and that's not necessarily a bad thing.
I've read a lot of the criticism aimed at Balsa and co.; "dull" and "disappointing" immediately spring to mind. Indeed, given our expectations were blazed by the ferocious opening three episodes, it's understandable to feel disappointed when an apparently action-packed siege suddenly transforms into an aimless vacation; reading that Production I.G. greatly expanded the midsection of the original novel explains this notable lull in adrenaline and tension.
Like everyone else, I felt frustrated by waiting for the pace to pick up, yet I never grew tired of Seirei no Moribito. Often I had trouble motivating myself to physically sit down and watch an episode, yet within minutes I would feel relaxed; almost spirited away by the serene fantasy and the bristling green countryside; the plot was always a safe bet, a no-brainer, but the rippling atmosphere of the series, it's ethereal tones, cultures and sounds would render me completely at ease.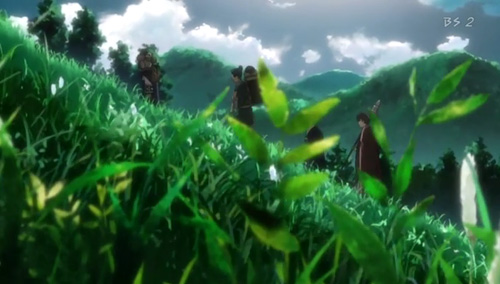 On that point, one of my favourite episodes was number twenty – Balsa et all journey from a remote village hidden by green fields and sparkling blue waterfalls; for minutes the dialogue is minimal to none as the party look back on the rural settlements and Kenji Kawai's wistful melodies swirl-away in the background. It's hard not to be taken aback by such peaceful depictions of the simple life; one person's "dull" is another's diamond.
Though the story's clear focus is to follow Chagum's development from pampered kid to worthy prince, I was more interested by Tanda's presence – or rather, his growing feelings for Balsa (and visa-versa). As you can imagine, the transition from childhood friend to adult love interest is never easy, and often we're left feeling uncomfortable (and even embarrassed) as the romantic tension between the two almost-siblings becomes obvious even to their tween-aged prince. Indeed, it's precisely this attraction that undercuts their every interaction with an adorably timid facade, as both Tanda and Balsa desperately try to ignore the obvious signs of lurrrrrv.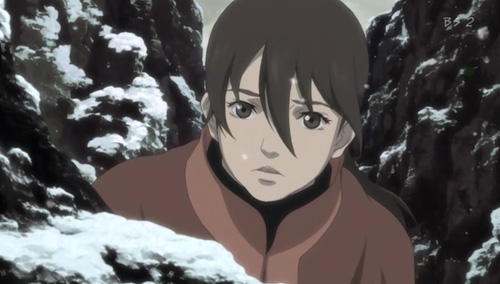 Aside from the aforementioned fireworks in episode three, the big action highlight is an awe-inspiring flashback to godly warrior Jiguro's adoption of Balsa, and take it from me; his skills with the spear are without rival. In one breath-taking sequence, poetically surrounded by rocky mountains and falling snow, he alone takes on (and kills) six of his fellow warriors.
When Seirei no Moribito does action, it's spine-tingling, but such scenes are so few and far between. It's not an action series at all; I'm tempted to say "slice of life", but that's not right either. It's hard to pin down to any neatly labelled genre – alongside everything else I've already mentioned, there are strong elements of fantasy, politics and religion. What I can say is Seirei no Moribito's main strength is its atmosphere; the feelings conjured by wind swept fields, the quiet rustling of wildlife and Kenji Kawai's sweeping and emotive soundtrack (which is clearly channeling Toshio Masuda's brilliant work on Mushishi). If you're ready to calm yourself, brew a hot drink and set aside an afternoon or two, Seirei no Moribito is fine means of whiling away a stressed mind.