Gone a bit quiet around here, ain't it? Last update was a couple of weeks ago, so I figured I'd pop-in a quick "Hello, not dead yet". The truth is that, since finishing Ghost Hound, I've not been watching nearly enough (good) anime, so, aside from a few sarcastic paragraphs, I don't have much to say about anything.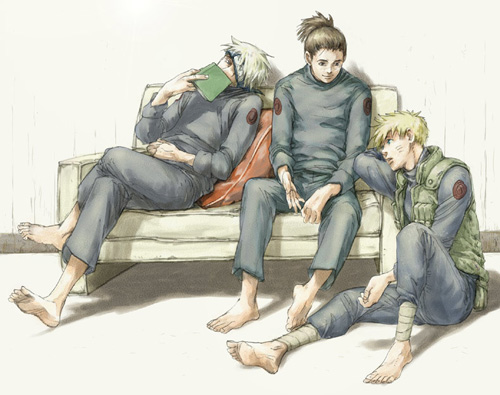 Being an anime blogger and all, that's kind of a problem. May be it's that I've committed myself to watching so much that I'd rather not watch anything. There's still 8 series, including Soul Eater and Kurenai, which I've totally avoided just because I've also wanted to take fair shots at, for example, Allison and Lillia. It's hard watching all this stuff (especially when it's so bland), but I'd be disappointed to miss out on series like 2007's Toward the Terra just because it's not the flippin' otaku du jour.
That's only half of it, though. Macross Frontier is a good example of what I'm feeling; we have the same old teenage characters, the same old dumb romances, the same old mecha and the same old artificial JPOP music (my apologies to Yoko Kanno). There is nothing there for me any more. The same goes for Code Geass, too. I'm pretty much done with this whole 'sexy' high school vibe. It might be fun on a transient, superficial level, but 25 minutes later, I'm not interested in these characters or excited by their stories. I graduated in 2005.
The thing is, I really thrive on that emotional connection. All my enthusiasm for writing about anime stems from this strong sense of empathy. That's why, despite seeing the likes of Naruto constantly mocked by others, I'll always adore (and defend) it. I'm on a journey with those characters and it's beyond objectively saying whether it's good or bad, it simply is. To that end, as long as Masashi Kishimoto continues writing, I'll always be his reader. The same goes for Eiichiro Oda and One Piece. I'll never give up on them, they might not be the most subtle, well animated or original stories, but most important of all, the characters have soul, and, to put it bluntly, that's more than I can say for their contemporaries.
Thank god for Kaiba, right? Think on this for a moment: in the spring season of 2007, the following anime premiered.
Claymore, Darker than Black, Dennou Coil, Ookiku Furikabutte, Seirei no Moribito, Tengen Toppa Gurren-Lagann and Toward the Terra.
For me, that's almost a renaissance, and comparing these series to my reaction to 2008's generation is a bit, well, underwhelming. Being optimistic and all, hopefully I'll see something (Soul Eater, I hope) that changes my mind. Until then, I guess.