Ahh, my saviour is the weekend! I know my last post wasn't exactly beaming with enthusiasm for all things animated, but with two more weeks under my belt, the gloom has lifted and I'm now tucking into tasty helpings of spring stuff on an almost daily basis. Surprisingly, there's a lot of new series I'm feeling; in particular, Kure-nai and Macross Frontier, both of which I wasn't expecting to enjoy quite as much as I am, while the likes of Soul Eater and Kaiba remain, as ever, firm favourites.
Anyway, this weekend is special in that it's an extended one. Come Monday morning, I won't be dragging myself out of bed for another draining shift at work, but instead, will be feasting on the varied fruits of Japan's lovely pop culture. Sorry, that's probably gloating, but the thing is, whenever I get the time to relax for much longer than a few days, I often gravitate towards manga. I've never been much of a manga reader, but every now and then, usually during extended, lazy weekends, I get an urge to read something. Like how this morning, I woke up with a vague interest in tracking down the nice looking (in a weird way), post-apocalyptic Dragon Head, but once that proved a little too hard to find, I turned to ZashikiOnna instead, "Regularly chosen as "the scariest manga ever" in magazine horror specials."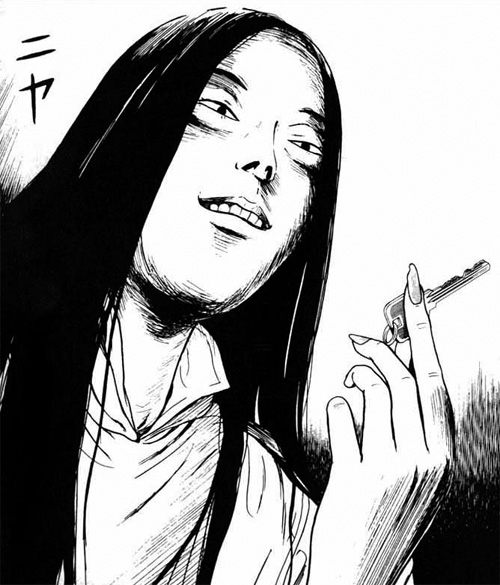 ZashikiOnna is definitely chilling. It's not scary in a violent or supernatural way, but it's realistic, believable horror. The story revolves around college 'player' Hiroshi, a relatively normal, love-sick young man living a regular student's life. One evening, he wakes to the sound of someone banging loudly on his neighbour's door. It's clear he isn't in, but the loud knocking continues for a long time. Hiroshi pops his head outside, into the hallway, to find that the knocker is this rather odd-looking girl; messy hair, dirty clothes, tall and thin, she sees him too, her gaze is strange, intense. Saying nothing, he retreats, but suddenly, the banging starts on his door too. It's the beginning of her deadly obsession with Hiroshi.
It's a creepy situation to be in, to have someone you don't know, have never seen before and looks a little unhinged, invade your life. The darkness, ambiguity and mystery surrounding the girl's fascination with Hiroshi is chilling, there's no logic or no past connection, she's an absolute stranger, no life of her own and hell-bent on his constant attention. The worst thing is that, despite being only 1 volume in length, ZashikiOnna is unreleased outside of Japan and only partially scanslated, hence, we're left hanging in the midst of terror with no end in sight.
If you're looking for some atmospheric and imaginative scares, I have to recommend ZashikiOnna. It's the kind of horror best read on your own in a darkened, silent room with nothing but shadows and street-lights for company. For my part, I'd love it if you could recommend to me some one-shot/short manga (of any genre), I've got a lot of time to waste over the next few days and I'd love to fill it with some unique reading.