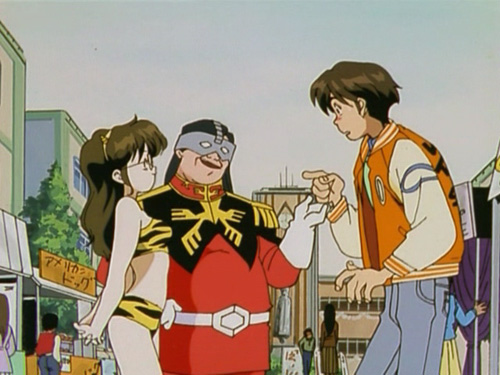 'Mockumentary' Otaku no Video is one of those anime that, even within the anime community itself, is fairly obscure, but every now and then, someone will reference it, often as a comparison to nu-otaku champion Genshiken; for example, the first time I heard about it was when Anime World Order posted a review back in 2006, and considering it was created by animation studio Gainax in 1991, that fans are still talking about it some 15+ years later is surely a good sign, right? Indeed. Here is a fair warning; if you have issues with self-loathing, save yourself the agony and don't watch Otaku no Video. It will depress you.
As alluded to above, Otaku no Video is a mockumentary of otaku culture. Pasted inside a Genshiken-style anime about a bunch of geeks coming together through their passions for all things, well, geeky is a series of painfully realistic (live action) interviews with real Japanese otaku, all of whom are middle-aged men. Its Wikipedia article suggests that while the anime segment was intended to emphasize the more positive aspects of Japan's geek fandom (like comradery and friendship), the live action interviews depict the otaku's lonely reality; several of the interviewees were Gainax employees at the time (though, to protect their identities, their names and voices are changed, while their faces are either unseen or blurred), and because this whole production was helmed by Gainax themselves, their deft, autobiographical understanding of "the truth" cuts right to the bone, so much so this isn't as much a satirical comedy as a scientific study of the otaku sub-species. They even interview an American anime fan. It's all in good fun, but a touch evocative too.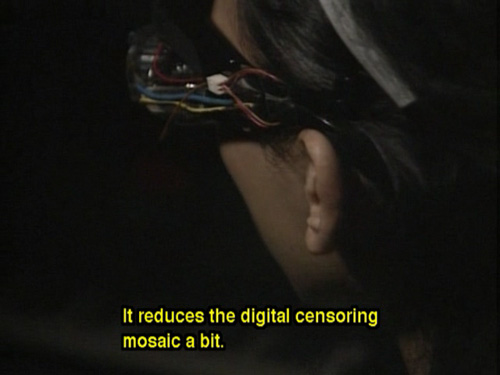 One interview in-particular struck me as incredibly depressing; this otaku, sitting in a darkened room, specialises in pornography, and to work around the Japanese government's censorship of genitalia (they pixelate those areas), he has adapted a pair of glasses to decode the image. It's just shocking to see that this guy has such talent for electronics, yet uses it in pursuit of… masturbation. They actually show him 'pulling one off' by the way! Another interviewee is hunched over his small computer screen, drawing nude images of a character that looks a lot like Noriko from Gunbuster. Again, the art itself is technically brilliant, but it remains a self-fellating fantasy. They ask him "how do you take care of your sexual needs?" Otaku responds "Well, I like computer games."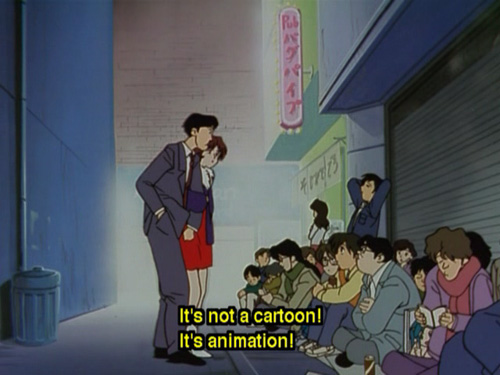 The anime itself is up-beat and fun in a style that's very reminiscent of the likes of Genshiken. One scene I really liked involves fans queuing up for the late-night theatrical premiere of Nausicaä of the Valley of the Wind. A drunk guy, probably just kicked out of a local bar, passes by them in the street and tries to work out why they are all so excited about seeing a "cartoon", they respond that they aren't waiting for a "cartoon", but "animation" (Hayao Miyazaki's big break-through, no less). And I agree – there is totally a difference between cartoons and anime.
You know, Otaku no Video is surely worth watching, just don't be expecting a romanticisation of otaku culture. It swings from pathetic to funny to nostalgic in a matter of minutes and as long as you're prepared for some soul-destroying satire, it's a really 'interesting' watch.