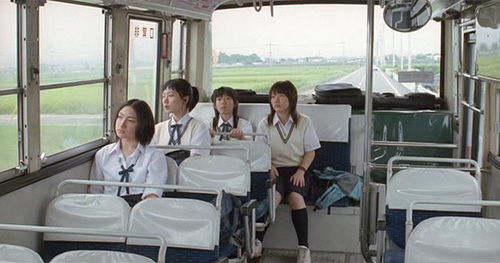 While I'm fairly confident that I've built up some decent knowledge of anime over the past few years, I can't say the same for Japanese live action. Sure, I've watched many of the cult classics; Audition, Azumi, Battle Royale, Ringu, to name but a few, and there's no denying that they are cool movies (albeit enjoyed mostly for their superficial excesses), but what I'm looking out for are the understated dramas, the good movies that don't have to rely on violence, ghosts or samurai to attract attention. Movies like Ping Pong, Blue Spring and Go. May be it's just that I'm not looking in the right places, but so far, I've found it really hard to get good recommendations for these kind of films, yet I've adored what I've seen enough to know that I really want to see more, so when someone throws me a bone in this area, I'm happy to go chasing. And guess what? I'm so glad I did. Introducing Linda Linda Linda.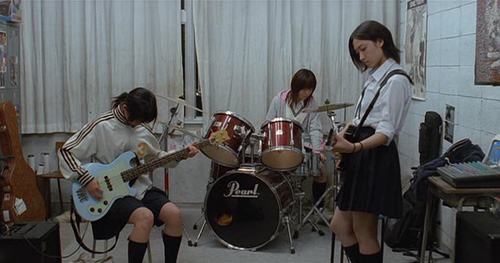 These days, we're so saturated with media that it's fairly rare to start a movie without having read even so much as a plot synopsis, yet so it was for my introduction to this movie; all I was going off of was a personal recommendation and a decent IMDB rating, everything else was irrelevant. Anyway, the film is best described as a very Japanese slice of life, focused on a quartet of school girls who create a rock band for their fast-approaching school festival. That's it. The plot is undeniably thin on twists and turns, quite unspectacular and straight-forward, but this movie isn't about story, it's about characters, a group of friends hanging out together, practicing music, and looking out for each other. Its some parts funny, charming and heart-warming, others reflective, nostalgic and introspective. Some of my favourite scenes involve the girls just wandering through grassy fields and hanging out on empty roof-tops, laughing and joking and singing, doing nothing of note, just being together, being young. It's a movie about friendship.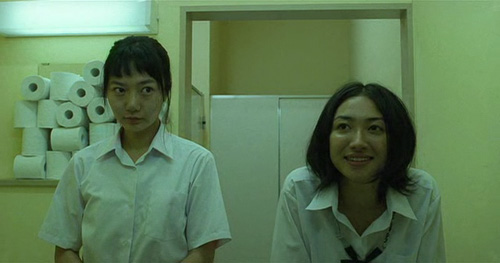 One character in particular is worthy of note. She's a Korean exchange student (called 'Son', played by actress Bae Doona) who can't speak (or even understand) Japanese well. Son doesn't have any friends and spends most of her time bored, with no-one but a bilingual teacher for company. She falls into the band almost by mistake, yet finds herself at its very center – as the singer.
Because her grasp of the language is so basic, she has to practice alone, for hours, at the local karaoke bar, just to keep up with the others, and through all of that hard graft, her funny personality gradually blossoms. She goes from being the alienated foreigner, almost completely isolated, to having found some intimate friends, staying up all night and goofing off. You can see just how much it all means to her; her happiness is scrawled all over her beaming smile.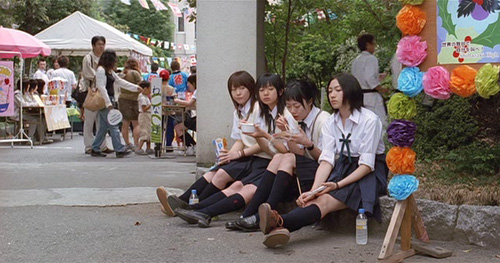 It's a warmly nostalgic take on youth and, much like Honey & Clover, there's a very clear sense that this is an ephemeral era, knowingly short-lived, passing-by too fast. Towards the end of the film, one of the girls (the drummer, played by Aki Maeda) carefully plans to confess her love to a long-held crush. Everything is right about the scene; it's pouring with rain, they are all alone, the guy is shielding her with his umbrella, but when the moment of truth comes, the girl still can't find the courage in her heart to explain her feelings, and so, nothing happens. Often times, that's the way it goes. Besides, there is always tomorrow.