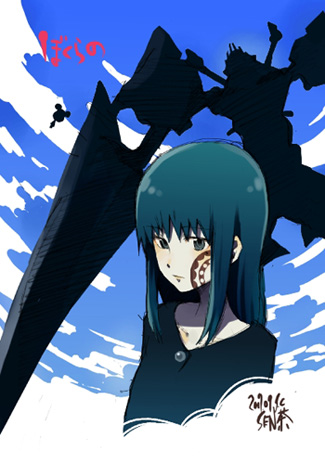 One of the most difficult decisions an anime fan has to make is whether or not to 'drop' a series. For me, it's often a snap decision; not really based on any objective criteria, rather, it depends on how I'm feeling at that specific moment. As a result, I'll often make some impulsive mistakes; errors in judgement that might come back to haunt me a year or two down the line. Well, I have to admit, it was a mistake to drop Bokurano when I did, but the context is important too.
2007's spring season was immense; Tengen Toppa Gurren Lagann, Dennou Coil, Toward the Terra, Seirei no Moribito, Code Geass, Darker Than Black and Claymore were all occupying my attention. Originally, I was trying to fit Bokurano into that line-up too, but it ended up being the odd one out. Why? I didn't like what the director had to say about the source material, and that, combined with my generally cynical opinion of anime studio Gonzo, was all the ammunition I needed to drop something from the list. Looking back on that decision now, I can see I was being obtuse in the extreme, but for the sake of sanity, one can't spend all his time watching anime, and hence, dropping Bokurano gave me a little breathing space.
One year on, things are slightly different. Late on Thursday evening, I found myself yearning for a story with an interesting premise. My thoughts immediately turned to Bokurano; the way I dropped it, the way my fellow bloggers really loved it and most of all, the way it's such a fascinating idea for an anime series. Long story short, by now I'm 14 episodes in and hoping to finish the whole thing in time for a proper review next weekend. Indeed, I'm annoyed at myself for being so presumptuous as to even drop it in the first place, but I'm so glad to have had the opportunity to revise my opinion too.
I guess what I'm trying to say is something that's obvious, but worth saying anyway, that opinions, good or bad, are as much about personal context, essentially, that specific moment in time in which they were formed, as they are about the actual anime in-question. So, for all of your seemingly water-tight judgement, something you might have dropped (or even ignored) in the past might not be as bad (or as good) as you remember it to be. Don't be so arrogant as to presume your opinions are (and always will be) absolute. They expire just like everything else.