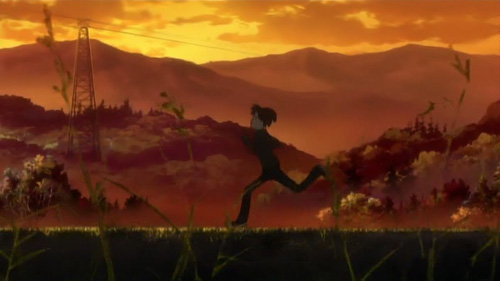 I finished Bokurano this weekend, just as planned. 24 episodes in 5 days isn't bad at all, as I've never been one to enjoy marathoning through anime. After all, I ended up needing nearly 2 whole years to catch up with 300+ episodes of One Piece, so, starting and finishing Bokurano in a matter of days is something of a surprise to me, but also a credit to its quality, in that it managed to keep my interest piqued for hours on end.
As I mentioned last week, I think Bokurano is a fascinating story. 15 children are mysteriously tricked into piloting this giant robot (called 'Zearth') to fight off a string of 'alien invaders'. If they choose not to fight, Earth will be destroyed. If they lose their fight, Earth will be destroyed, and after they win, the pilot selected for that one battle will die. It's a rigged game with no winners and the children have no hope of escaping this fate, so inevitably, their lives take on a new meaning. Knowing full well their days are numbered, they are forced, perhaps for the first time in their young lives, to find something worth living for, or rather, something worth dying for.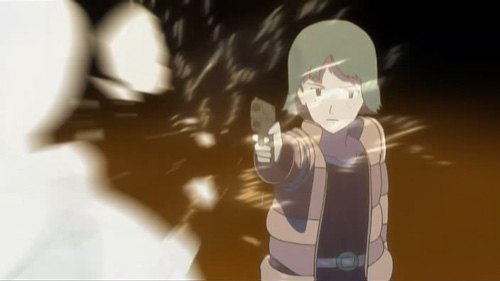 These children are not your cliche anime characters with green hair and big eyes. They are normal, almost dull-looking teenagers. They have parents too. I've noticed that, for whatever reason, parents don't often play a big role in anime. From Code Geass to Macross Frontier, there is always a convenient excuse contrived to explain away why parents are absent. I suppose teenage megalomania wouldn't be quite as enthralling if our mini-Machiavellis had to be in bed by 10pm because it's a school night. What I'm trying to say is that, in this way, so much anime is an adolescent fantasy of independence, far removed from reality, but Bokurano is a satire, an unflinching critique of modern life. It doesn't pull punches.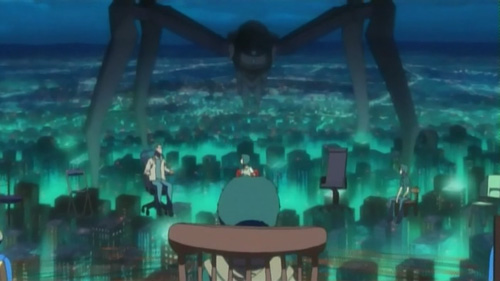 One of the most memorable arcs is that of the unfortunate 7th grade girl, Chizuru Honda. She falls into a love affair with her handsome school teacher, who also happens to be a paedophile. He exploits her naivety and seduces her, sets-up hidden cameras in his apartment and posts pictures of them 'doing it' online. All this and he starts dating Chizuru's older sister too. So, when it's her turn to pilot Zearth, Chizuru guns straight for her school and the bad teacher, but just as she is about to stomp him into the ground, her sister jumps in. If killing the teacher means killing her sister, Chizuru can't do it. That, ultimately, is her reason for fighting; when she wins, and therefore dies, it's all for her family. Moments after her death, it's revealed that Chizuru was pregnant.
It's not a story that shies away from controversy or taboo, but not every character arc is as tragic or as dramatic as Chizuru's was. Some are saccharine to the point of nauseam, others are uneventful, or mundane. Such is life; people have their own ways of finding value and beauty, often in obscurity. As much as Bokurano is rife with social commentary and attacks on commercialism, that these children find real reasons to live, and die, is important.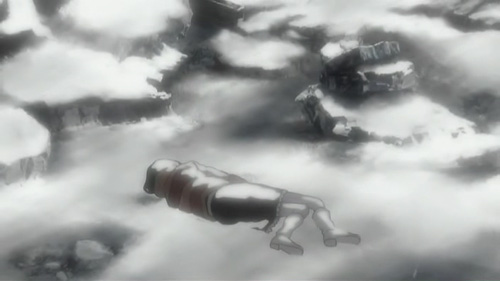 When they are first contracted as Zearth pilots, it's worked so that their favourite chairs are placed in the cockpit. Each chair is unique to that pilot, built in a way that's so personal and symbolic of its owner's personality. Plastic, artificial and rigid, or small, soft and humble. Apparently, you can understand a lot about someone just by examining their favourite chair; it's a quaint, lovely touch. Likewise, each child faces an alien mecha that's designed to look more like a moving Rorschach inkblot; a visual interpretation of their innermost fears and anxiety. That, really, should say all that you need to know about Bokurano, it's the kind of science fiction that works best as symbolism and morality, about trying to find worth in living, and dying, as a completely normal, insecure, fragile, imperfect person.