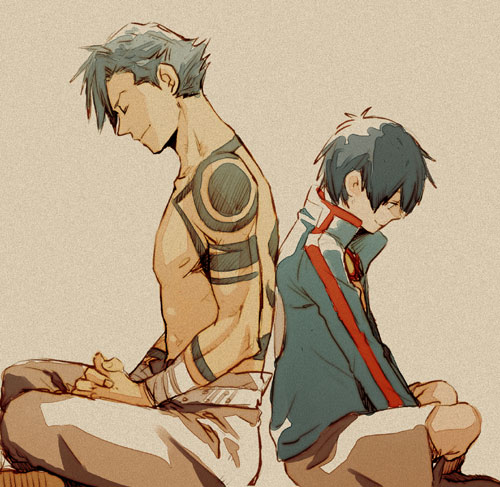 I consume a lot of anime in a purely superficial way; I watch it and enjoy it, but then forget about it. My favourites are those that burrow deeply into the subconscious, with certain moments and images able to rise back into mind at any given time; often, years after I've seen them, but why? Why is it that these particular stories have captured my heart and not others?

My guess is time; many of my favourites flow within a long passage of time. To name a few: Berserk, Gungrave, Legend of the Galactic Heroes, One Piece, Toward the Terra and Gurren Lagann. They are stories with characters that constantly evolve; where every passing moment feels important.
In Gurren Lagann, we watch as the unbeatable hero Simon grows old; in Legend of the Galactic Heroes, Reinhard spends his life in pursuit of the universe; and in One Piece, Luffy sails the seas and finds new friends to join his crew.
Indeed, the very flicker of inspiration for this post was Canute of Vinland Saga. In a matter of months within his story, his shy, retiring personality is transformed in to that of an inspirational, conflicted leader.
Seeing characters change over time is wonderful; watching as they age from children to adults, only to then fall and turn to darkness, or to rise and transcend old, impossible limits, creates a sense of understanding that, for me, is deep and lasting.
That's why I come back to Japanese animation and manga time and again. This ability to weave stories within boundless fictional decades, to document eras and lives, is not something so often crafted by other cultures.
The sheer length and breadth of time, and the way it fundamentally changes people and their environments, is difficult to realise in any medium other than animation and comics, yet Japan is still the only country regularly doing it in a way I find affective.