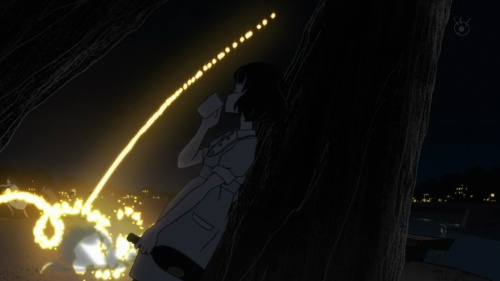 I'm a follower of people in the anime industry, but mostly, it's just the (good) directors I like to keep tabs on. I delve into their works and the more I find, the more I trust in those same people to deliver yet more good anime. Hayao Miyazaki is a popular example, and Masaaki Yuasa is another. I have faith his talent and I'm happy to sit here, passively, and take whatever he throws at me, which is why I now find myself both fascinated and horrified by some of the reaction to the first episode of The Tatami Galaxy.

People complain that it's impossible to follow because the characters speak too fast, and some are even going so far as to pause the show, line by line, to read every word of dialogue before it zips off the screen. This seems horrifying to me because it's like stopping, say, Yoko Kanno half-way through performing 'Tank!' and asking her to explain what she just did.
I guess what I'm trying to say is, the dialogue is fast for a reason. It's supposed to be borderline incomprehensible; that was the director's intent, so, don't worry about missing a line or two, he wants you to miss them, just let the anime wash over you and try to understand what it wants to say.
(Enjoy the performance, hopefully without pausing it!)
In the case of The Tatami Galaxy's Watashi, he's a hyper-sensitive and bitter student jaded by, at the same time as desperately chasing, true love; this is not Lelouch Lamperouge or Light Yagami, not every word Watashi utters is supposed to mean something, in fact, most of what he says is either a lie or just flat out irrelevant.
I'm starting to think there are two clearly defined ways of watching anime. You either go in ready to work out what you're seeing, or you just expect to have it spelt out for you. If you're in the latter's camp and refuse to budge, you won't ever get what's so good about The Tatami Galaxy. I'm trying really hard not to get too carried away into hyperbole this early, but I hope it's not too much of a stretch to suggest that The Tatami Galaxy has the best first episode of anime I've seen for long, long time.