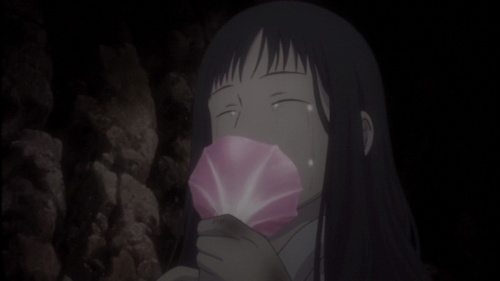 I often analyze myself in terms of what I'm watching and why I'm more attracted to certain anime over others. I find it easy to forget just how niche a lot of what I'm watching really is, only to then realise I don't know what's popular any more, or understand why, or even care. I'm sure I used to care, and that worries me, because I feel so out of step with other anime fans at the moment.
Lately I've found myself on a bit of a run of posts on the new noitaminA series. Looking at these shows objectively, I think I'm attracted to them because they are made to appeal to people my age, with characters that are more empathetic for me because they express many of the same emotions I'm feeling right now just by living my life.
At the same time, I'm watching Durarara!! and enjoying it quite a lot, but it's a more detached sense of enjoyment. Back in February, I actually tried to write something about it, but I stalled when I realised I had nothing to say. Two years ago, that would not have happened.
I suppose what I'm trying to say is, age is important. The way we saw things yesterday is different to the way we see them today. Perspectives shift and every ounce of new experience changes us in subtle ways, but anime, or, at least, the people whom anime is being made for, remains the same.
I started thinking about this while skimming through reviews of the latest chapters of Naruto. I still care about its story and characters, but over the years, those feelings gradually began to fade. The problem is that it's still the same story I fell in love with back then; Naruto is still the same boy, but I'm older now, different, time is moving faster in my reality than it is in his story.
Earlier in April, I started rewatching Mushishi and it's just as contemplative as I've always remembered it being. In episode 6 ("Those Who Inhale the Dew,") a father is intentionally and repeatedly infecting his daughter with a specific breed of mushi; it lives for only a day and has the effect of rapidly aging its host (her), but when the mushi dies, the host regains her youth and goes back to being just a normal girl again. Ginko turns up to save her from this endless cycle, but, compared to the relative endlessness of human life, she's not able to cope without the intensity of living an entire lifetime in a single day, so she willingly re-infects herself, choosing the mushi's delusion over her own uncertainty.
How does a mayfly perceive time? Does it value every hour as much as a person values a year?
I'm mentioning this now because the idea of living and dying in such a short period of time feels analogous to the way we consume anime, living vicariously through worlds of fiction, worlds that either end at a certain point or see their effects fade over time. My love for anime is not dying, but this sense of distance is expanding. Time just feels like it's moving slower for me now.