Frankly, I lack the words to talk about Satoshi Kon's passing; there are others who have said and will say things more eloquently. Instead, I offer you a diversion: FLCL.
I meant to write this post a while back, but never go around to it. Somehow, it's been a very long, and a little bit of a crazy summer. Without many noticing, the 10th anniversary of a certain anime came and went in late April. You probably know it by one of it's many names – FLCL; Furi Kuri; Fooly Cooly. I love FLCL. I've watched it so many times over the last decade that I've lost track.

I'm not sure where to start talking about FLCL. Every time I watch it, it seems to reveal something new to me. My first watch was at age 13: a year after I had gotten into anime; a year after its first airing in 2000. I had just started making websites for fun; a few fledgling anime sites. On my travels around the internet, I encountered a site dedicated to an anime called FLCL. I was intrigued: there was a company out there, 5 years before the anime 'craze' would hit North America, releasing DVDs in Japan subtitled, and in proper english, no less! Without knowing much more, knew I had to see it for myself, if just for purposes of supporting such a company. And so, FLCL became one of the first 10 anime I watched. Since then, I've rewatched it often. On occasion, I've felt compelled to watch during certain (looking back, key) moments in my life. Sometimes I wonder if the ripple effect of watching something so highly regarded so early in my time as a fan still influences my tastes now.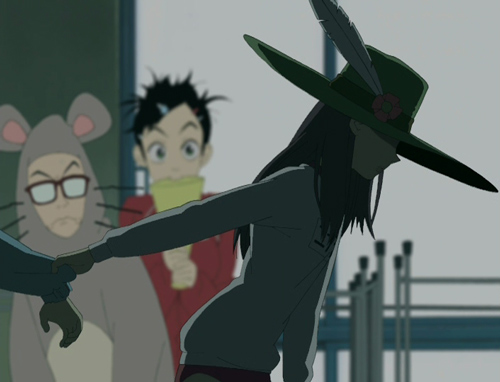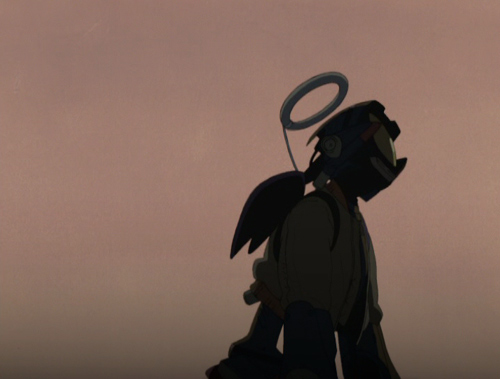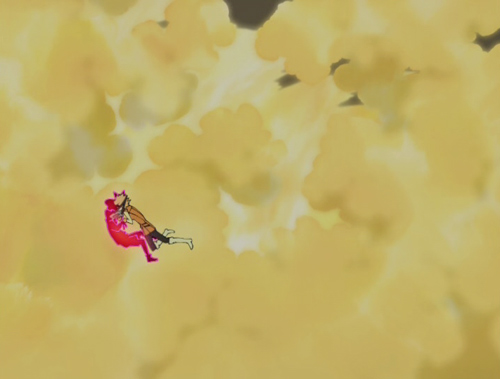 It's often described as an anime about adolescence, but that's a blanket statement. Naota is twelve years old, on the brink of his teenage years; experiencing his last summer as an elementary school student and child. Adolescence, moreover, is a topic so multivariate that it can't be captured by any one series, let alone a 6-episode OVA. FLCL is about the cusps; about limits. Ninamori pretends to be mature for the entire series in regards to her parents; only to overreact towards her classmates in relation to the play. Mamimi spends the entire series on the edge of 'overflowing'. Even Canti spends the series at a limit of a different kind, unable to live to his full potential, continually searching for minute pieces of red metal to become whole again. Naota himself is at the brink of adulthood; and acts sour due to the extreme constraints placed on him by virture of being a child.
All of the characters break through this, and it manifests in both physical and emotional ways: Ninamori cuts her hair and "cries her eyes out" to her parents. Mamimi stops lamenting the town she hates and leaves, camera in hand. Canti dons a halo and wings, jumping off a building to become closer to what he was. And Naota, in love with Haruko, fully becomes the object of her desire: Atomsk, the Pirate King.
In the end, though, none of these efforts are enough. For all her crying, we never know what happens to Ninamori's parents; either way the decision was never hers to begin with. Mamimi seems to have met with some success in photography, Naota considerably less in wooing Haruko. Ten years later, and the scene is now infamous: a boy holding a Rickenbacker guitar, amidst concrete and a sand-colored sky. The show's final moments see Naota in a middle school uniform, black and somber. Ninamori's comment at this moment is apt: it doesn't suit him at all. His body is still a child's; his pants are too long. Summer is over. They're all only halfway there, but 'there' isn't a destination so much as it is a moving target, much like Atomsk is for Haruko.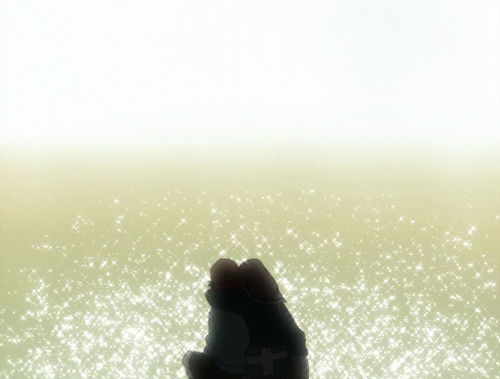 So here's to the last 10 years, FLCL. I'm glad you were made.