The Twelve Kingdoms feels very much like a shoujo anime, but it's more akin to Utena and Toward the Terra than Escaflowne, and by that what I mean to say is, while there are no melodramatic love triangles here, The Twelve Kingdoms is all about exploring and externalising the feelings of its characters; that's girly stuff, right?
Pictured above is Taiki, and if he looks worried, it's because his divine task is to choose the next ruler of his kingdom; a country named Tai. As a Kirin, he's destined to receive a revelation upon first meeting the future King or Queen, but, having met literally thousands of hopeful candidates during the traditional ceremony, he's still unsure of whether or not he's found the right person.
Racked with self-doubt, but still not wanting to let anyone down, he eventually just follows his intuition and chooses the man he feels most drawn to, and captured above is that uncertainty, as he goes through the climatic ritual of appointing his new King; pledging himself, on his knees, to the man standing before him.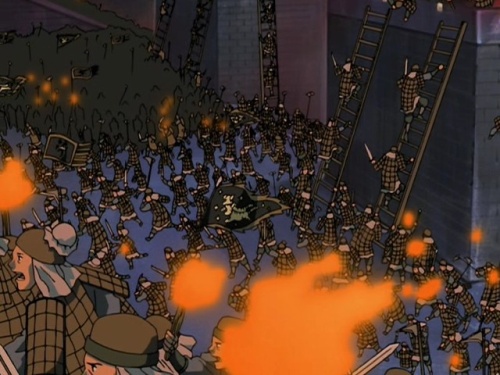 When a new King or Queen is appointed, they become immortal and able to rule their respective Kingdom's until the heavens are angered. I'm yet to see further than episode 24, but, so far, whole countries have gone to war, genocide has been committed and monarchies have been over-thrown; basically, the heavens have been angered!
As personal as it can seem at times, The Twelve Kingdoms has a broad sweep, where the clearing of every psychological barrier is accompanied by an escalating sense of scale. We're dealing here with Kings and Queens, and when things do get serious, there's a palpable sense of distance and size; armies are seen marching into battle and attacking fortresses; years pass in the blink of an eye, eras coming and going.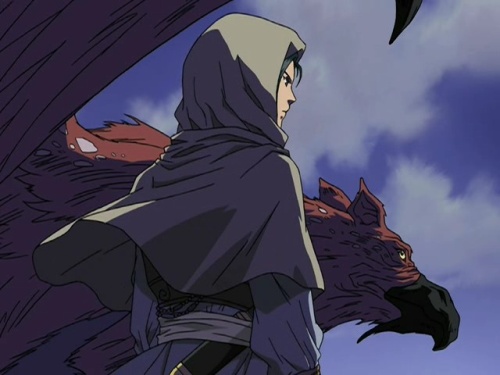 Of course, it wouldn't be fantasy if there weren't magical creatures, but just as impressive is the…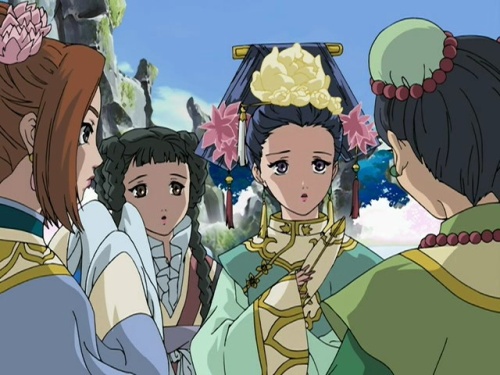 … refinement on show. As the series moves on, the very Chinese aesthetic and sense of culture comes to the fore, where every tiny movement is a carefully considered, subtle display of manners and intent; hair adorned by flower buds, arms and posture held in ways to best portray a sense of elegance at all times,  and the palaces themselves; built amidst impossibly picturesque lush green and blue waterfalls, or up in the clouds, flanked by miles of jagged mountains.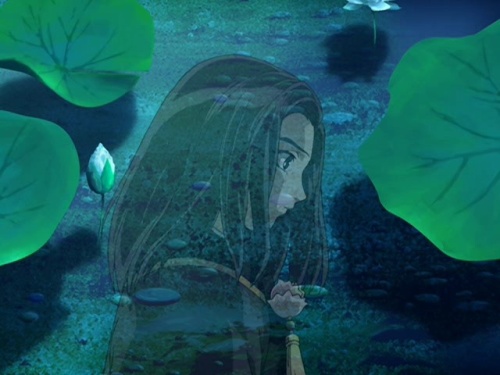 The above image best captures The Twelve Kingdom's poetic mix of beauty and emotion; the serene colours conflicting with Taiki's worried expression; his reflection transparent against the water, betraying his weak sense of self, intertwined with the natural, fragrant beauty of the water lilies, themselves casting dark shadows across the pool's bed.
This is an intoxicating series that, on the evidence so far, is well worth watching.