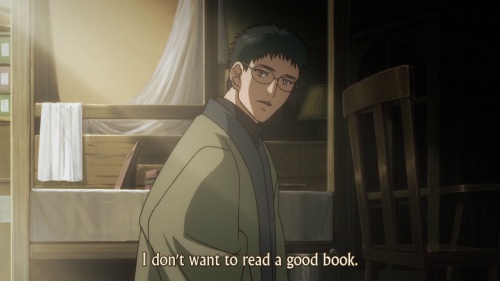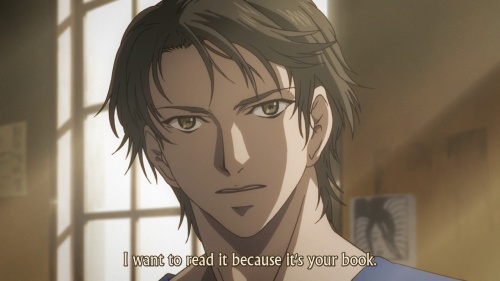 Writing, even anime blogging, can be hard. We all have ideas about what makes good writing and that's why, sometimes, I have trouble doing it for this blog. I want to write posts that are, in their own ways, perfect. I know that's an unrealistic goal, but I try anyway, and this whole process gradually becomes a huge weight for me to carry. I'm insecure; I'm rarely happy with how any given post turns out, but I keep trying anyway, because I hold out the hope that you will want to read these words, flawed as they may be.
This was all dragged up by the Run, Melos! arc of Aoi Bungaku, two of the loveliest and most emotional episodes of anime I've seen.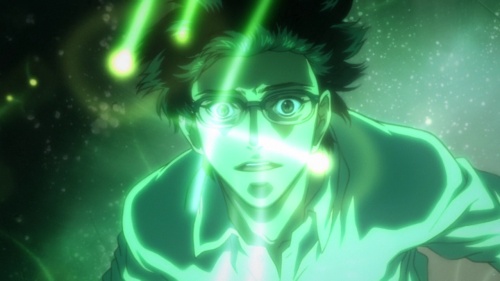 It was beautifully animated and…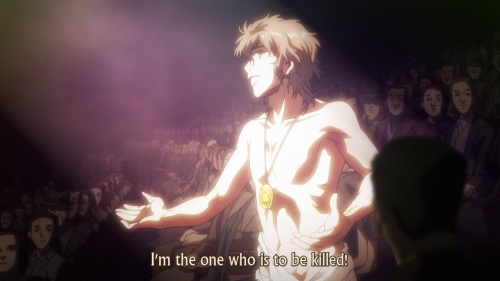 …crafted in a way that's so artful and exciting, but most of all, I loved its story.
Written by the famous Japanese novelist Osamu Dazai in 1940, it's about two friends split apart by circumstance; one a playwright, the other an actor. They promised to travel to Tokyo together, but in the end, only the playwright made the trip. 15 years later, his newest play (titled Run, Melos!; a Greek legend) works as a metaphor for their friendship. He slowly composes it as he reminisces. In his mind, fiction, the past and the present day all intertwine; at one point, characters from the play leap forth from the his imagination and onto his desk, running and fighting between half-full ink bottles and stacks of old, dusty books.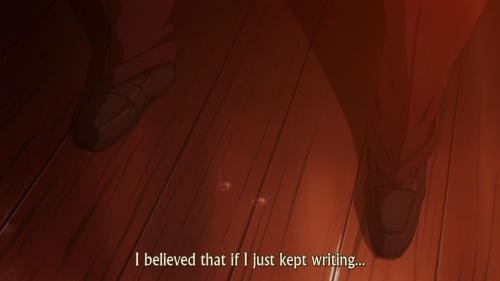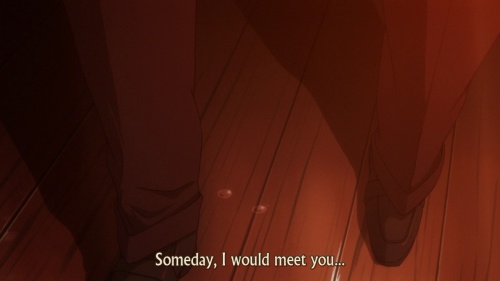 It's the emotional content that captivated me, though. Writing is an emotional thing, after all, and everything I write about, I'm doing for a reason. In an abstract way, just as the playwright crafts his story around his feelings for his friend, the things we choose to watch, read and write can communicate so much about us; he's reaching out to his friend through his play, just as I'm reaching out to you through this blog.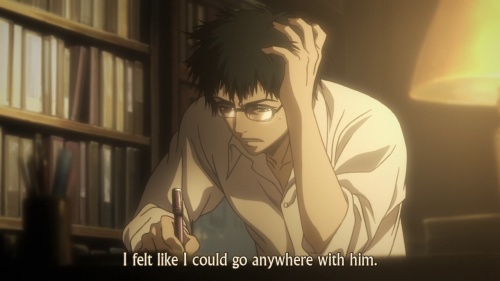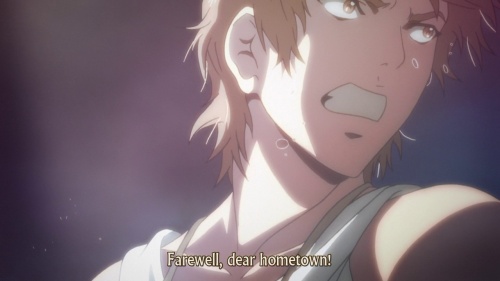 Most of all, a good friend can inspire you to change your life, to move forwards. The playwright ended up in Tokyo alone, but he went to Tokyo; he may struggle with his writing, but he still writes. Life can be painful, but it's worth the pain if one can move forwards; I want to believe that as I'm sitting here now and writing this. Blogging to me is communication; it can be a pain sometimes, a chore, but it helps me to express my feelings about the things I care for.
I'm sorry if that all sounded a bit vague, that's just where I am right now. Run, Melos! reminded me of why I love blogging. Please do watch it, even if you have to skip the rest of Aoi Bungaku, it's worth the effort