The above image is from Panty and Stocking with Garterbelt, but one would forgive you if you had to double take; the second half of episode 5 feels like it's from a completely different series. Not only has the art style completely shifted, so, indeed, has the tone. Gone, for the most part, is the rapid-fire banter; the colours are washed out and the main character, believe it or not, is an old man.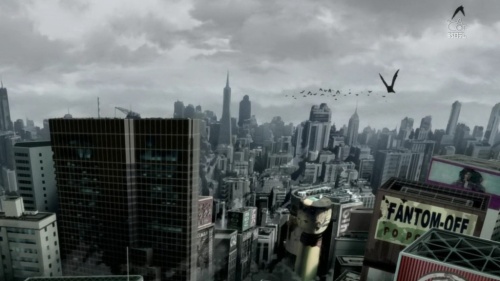 The first comparison that came to mind whilst watching this was Mind Game; the character designs, especially, look like they've jumped straight out of that or Kemonozume, but thinking more about it now, there's very much an echo of Tekkonkinkreet here, too. Not just in the crows or the urban sprawl, but in how it presents Panty and Stocking as the super heroes of a dark city.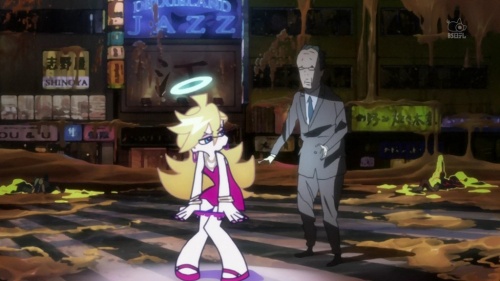 The girls, frequently so vulgar and carefree, save an old man's day. His world is as harsh as it looks; his family is poor and his work-mates ridicule him, which is why it's so exciting when Panty and Stocking turn up, jumping over buildings, cursing and shouting, doing their usual thing; not a care in the world and larger than life. They are unreal, and I love that stark contrast of realities (captured beautifully above); come to think of it, it's so much like this piece of superflat art by Tatsuyuki Tanaka: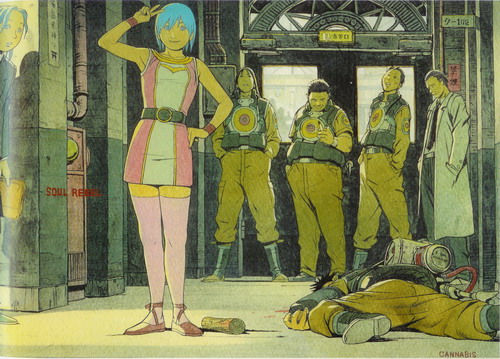 Best of all, though, is just that this is the first episode (well, to be more specific, the first mini-episode) of Panty and Stocking with Garterbelt that's vested with more than just toilet humour. Don't get me wrong, I'm really enjoying this series anyway, but I love how warmed I felt by it's end. The episode's director was the infamous Osamu Kobayashi (Paradise Kiss, Beck) and Takashi Mukouda was the man in charge of the animation. Those names may not mean anything to you, but they are worth mentioning anyway.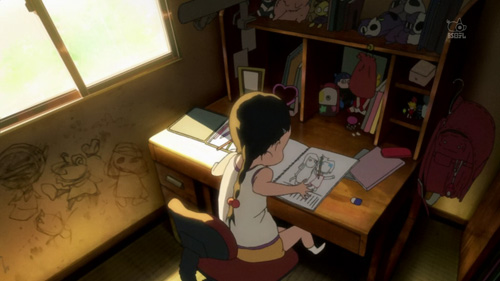 Anime, as ever, is at its best when it's unpredictable. I never expected such a drastic shift in tone from Panty and Stocking with Garterbelt, but now I can hardly wait to see what's coming next. I never expected to describe this series as spine-tingling either, but there you go.
So, I've changed my mind about autumn 2010; it's alright after all!