The older I get, the more I start to wonder if the messages in anime are still relevant to my life.   I've even started getting self conscious about what I watch.  After all, what long term artistic value is there in something like To aru no Index Season 2?  Don't get me wrong, Index is a fun show, but it's generally not very thought provoking.  So when I hear about a more mature show like Bartender I get excited.  Finally, a show I can watch and still feel like an adult!  I was generally impressed with Bartender. However, I think the show erred by relying only on episodic stories instead of doing multi-episode arcs.
One casualty of the episodic stories is the bartender himself.  Instead of focusing on the bartender as the main character, the show treats him like a tool.  His job is to expose his customers' problems.  Each episode of Bartender revolves around little vignettes featuring between one and three new characters.  The show feels very similar to Mushishi or Kino's Journey in that regard.  Like Kino, the bartender never really pass judgement on the people that walk into his bar.  Unlike Kino, the bartender tries his best to help his customers overcome their problems.  Even when the bartender can't help a person, he is able to transform the person's dilemma into a fitting drink.  I guess the message of the show is that giving a person an alcoholic drink can itself be a perfect solution to a problem,  I'm sure Homer Simpson agrees.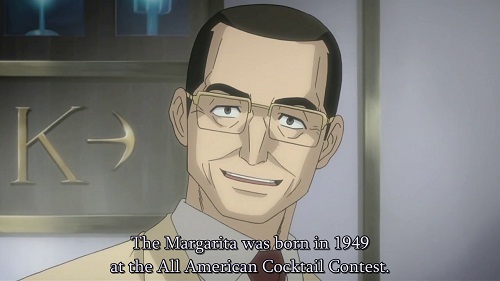 The show also spends a lot of time explaining different drink recipes as well as the history behind different types of alcohol.  At times these lessons can feel a bit too much like an educational documentary, but you can get some great drink recipes and party facts if you aren't already a cocktail expert.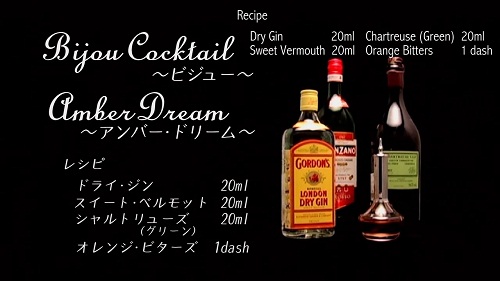 I would definitely recommend giving Bartender a try.  The stories in each episode are amusing and give a window into Japanese drinking culture.  Plus you can make the featured drinks as you watch!  So make yourself an Amber Dream and give this show a shot.