It's been fun re-watching Code Geass.
At the time of its airing, I was never at ease with its rather passionate fan-base and, as if to distance myself from them, ended up treating it quite harshly, but with the benefit of hindsight, it deserves better. Divorced from its specific era, Code Geass is a fascinating series, bubbling as it is with nationalistic factions and foreign conquerors.
This exchange during episode 12 particularly caught my eye: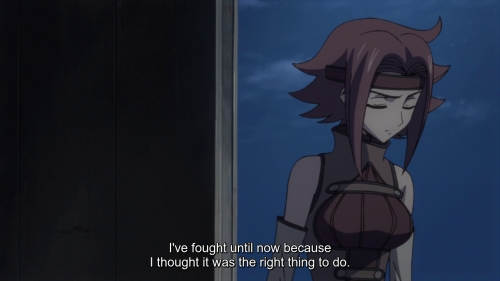 To set the scene, Kallen and Lelouch are discussing their futures in the Black Knights after realising that they were largely responsible for the death of the father of a close friend (Shirley, who also happens to be in love with Lelouch!)
A guilt-stricken Kallen is ready to give up: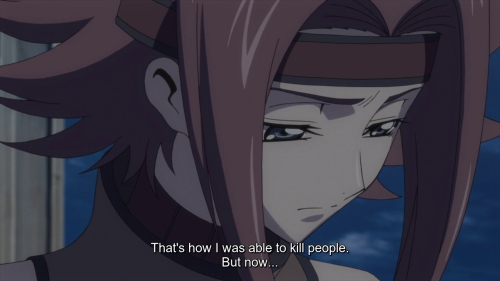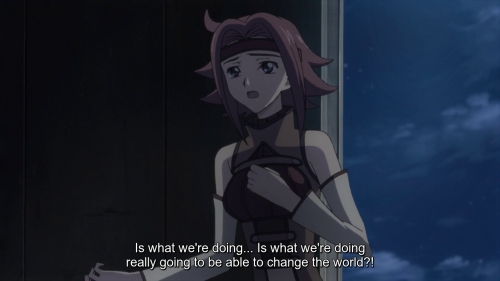 The subtext here is that up until now, Kallen had been just playing at being a Black Knight, at being a terrorist. She's lead two (almost) completely separate lives, but suddenly, is now being forced to witness the consequences of her actions. Lelouch is similarly affected, but also more determined to see things through.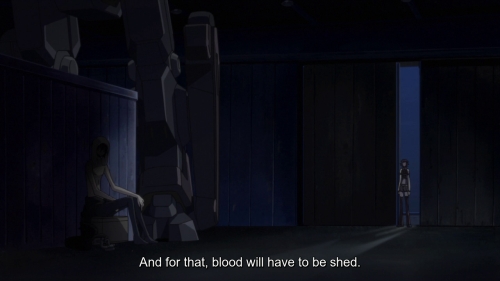 What Leouch espouses here is a line of reasoning often used by terrorists to justify their means; that to change the world, one must be prepared to get one's hands dirty. In other words, the murder of innocents is ideologically justified by his crusade for a better world.
As if to ram the point home: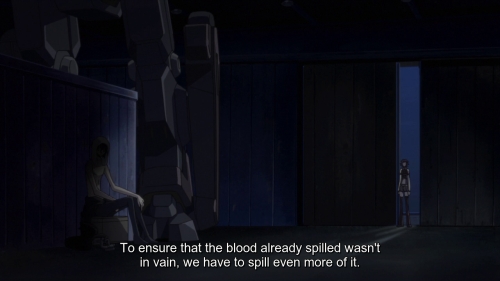 This is as much as a warning to Kallen as a statement of intent: the Black Knights will not stop here, rather, they have merely started, so if she's getting cold feet, best leave now. Her response, below: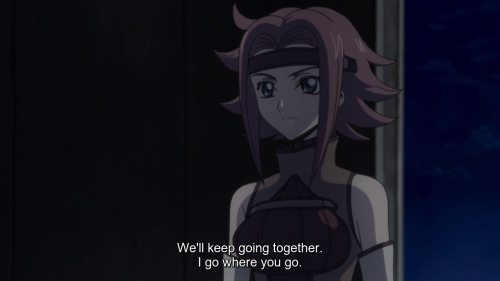 I suppose what I find interesting about all this is that it strips away the delirium of Lelouch's exciting quest for vengeance and gives us a vulnerable moment between two conflicted people; two people who also happen to be terrorists, contemplating the human cost of their actions. We cheer for Lelouch in Code Geass because he's our main character, but if this were real, how would we judge him and the Black Knights? What if the Holy Britannian Empire was the United States? How would we see Lelouch's rebellion then?
Alas, the fun thing about Code Geass is that it's set in a fictional world and we're able to reflect on the struggle of Region 11 through eyes not tethered to the real world. This is a story told from the perspective of terrorists, and, free of spin and bias, my empathy is real.