It'd be hard to watch No. 6 and not notice how homoerotic it is. I've now seen up to episode 5 and it's notable how blunt it's becoming in suggesting that Shion and Nezumi are in love. This is not a yaoi series though, it's not a sexual or pornographic thing, I'm not sure it's even shōnen-ai, it's merely homoerotic in the sense that Shion and Nezumi are yet to take things that far.
That 'yet' is important, because it strongly feels like No. 6 is heading in that direction and, quite frankly, I hope it does. This is a mainstream series; not some low-budget trash produced for the fans-only, but a noitaminA series animated by the famous Studio Bones, to be seen by all (well, all adults.) For the most part, anime is not the best at dealing with male homosexuality, I mean, just look at the gay characters (or should I say caricatures?) in Gurren Lagann and Tiger & Bunny. No. 6 has the opportunity to become something unique, because Shion and Nezumi are relatively normal people (that 'relatively' is important, given Nezumi is bat-shit!)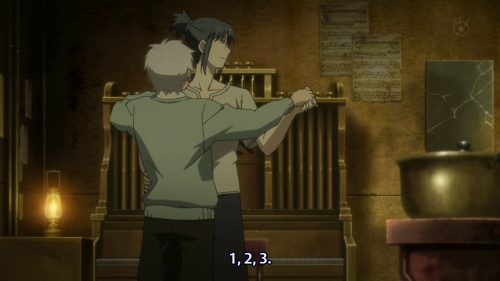 When I watch a series like this, I'm wondering, what does the female audience see in it? What's a girl getting out of watching two men engaged in a (potential) relationship like this?
It must be escapism, but usually with that, there's an obvious point-of-view character for the viewer to latch onto, but if you're a girl watching No. 6, isn't your gender excluding you from Shion and Nezumi's relationship? Or are you imaging what it'd be like to be one of Shion or Nezumi?
Since Nezumi is the more aggressive and therefore, presumably more masculine of the two, my first thought was that Shion was the female point of view character, but there's a key moment in episode 5 that confuses that line of thought: Nezumi cross-dresses, basically becoming a woman called Eve for half an episode.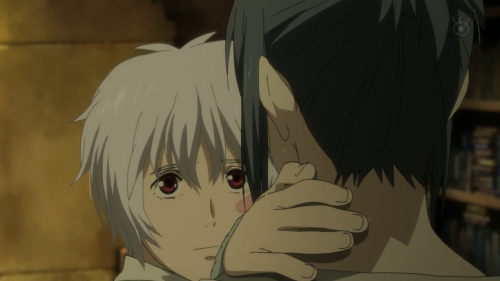 Perhaps, then, the draw for female viewers is that there's no set point-of-view character to feel constrained by? Since neither Shion nor Nezumi are female, there's no need to feel tied to one or the other, and that both can swing from masculine to effeminate portrays a relationship that is free of assumed gender roles?
For my part, what I get out of No. 6 is the same as what I get out of Towards the Terra, Ookiku Furikabutte and even Wolf's Rain, in that they all seem to deal with male friendship in sensitive and reflective ways. I realise that No. 6 is driving (or drilling, etc) at something more than just friendship, but even still, it has a perspective that I find quite compelling.