(dengar) Our monthly (more like quarterly or semi-annual) anime feature continues with an update on several current series we've reviewed previously.  Read on for a return look at Steins;Gate, Tiger & Bunny and Mawaru Penguindrum.
(bateszi) I hope you enjoy the lovely colours I've used to mark our names this time! …What was that you mumbled just there? Crimes against humanity you say? I'll have you know I'm a professional! We know how websites should look!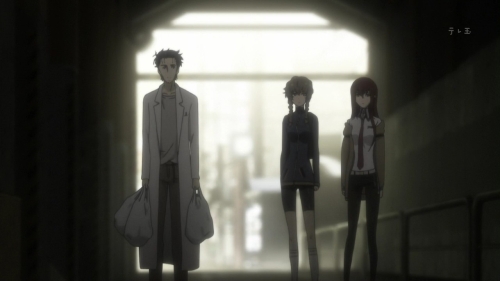 Steins;Gate
(dengar) This was the most improved series of the Spring season. The show started slow and the story was difficult to follow, but over time the show explained the confusing scenes from earlier episodes. A few even become the basis for important plot points.  It really hit its stride beginning with about episode 12.  At that point the pace of the show improved considerably. It went from a show that I almost gave up on, into one that I couldn't stop watching.  Although the end was disappointing and the last scene was awkward, overall I found the second half of the show engrossing.
As important as the plot was, the improvement in the characters was essential.  If you can't relate emotionally to a show's characters it's difficult to care about the plot.  That was a huge hurdle in the beginning. For example, I had a hard time relating to one of the characters who was a stereotypical otaku who made creepy comments. Mid-way through the show did a good job of devoting episodes to fleshing out the characters and by the end I had enough of an emotional attachment that I could enjoy the plot.
(bateszi) I've still not seen the final episode of Steins;Gate, but it's probably the most anime-esque series I watched over the last 6 months:  full of stereotypical "nyan" service, mad science and awkward romance. dengar's already alluded to the strength of its characters, but I particularly want to highlight the chemistry between Okarin and Kurisu. Whilst the others can be reduced to a few "database" traits, between those two develops as cute and warm an anime romance as I can remember (right up there with Guts and Casca from Berserk.) They make Steins;Gate what it is: a fascinating and emotional thing to experience.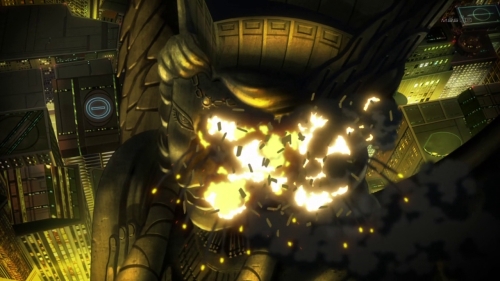 Tiger & Bunny
(bateszi) I had a tumultuous relationship with Tiger & Bunny. I dropped it half-way through, only to come back a few months later. Just this morning, I watched the final episode. For my first attempt, my expectations were probably wrong. Tiger & Bunny is not crafted like most other anime. I can't say if it's an old fashioned way of telling a story, or just a more Westernised one, but it has a different perspective on characters: less intimate, perhaps? Or just very archetypal? Whatever it is, it left me cold.
Bunny is the angsty one, Tiger the world-weary optimist. The first half is watching them bounce off of one another with little consequence until, at some point in the middle, everything begins to coalesce. Those previously rigid archetypes suddenly seem endearing; superficial fronts for a deeper sense of empathy; a homage to the mechanics of superheroism that are now fascinating enough to develop their own sense of mythology and history.
Perhaps my favourite story-thread concerned Tiger's decline as a hero, looking on as a younger generation takes his place and forced to give up the one thing he's always wanted to do. It's such a rare thing to see in anime: a middle-aged man contemplating retirement and approaching the twilight of his life. I really felt for him, and as action-packed as it was, I'll always remember Tiger & Bunny for moments like that.
(dengar) I've only watched the first two episodes, but I like the direction Tiger & Bunny is going in.  It's not a traditional superhero story like Iron Man.  I haven't seen any evil villains scheming in the shadows or an attractive young woman who eyes the hero dreamily.  Instead Tiger & Bunny seems to take after the Incredibles, with a superhero who is middle aged and vulnerable.  He's also a walking corporate billboard.  I haven't seen enough to judge the show overall but I'm interested to see how it addresses the potential conflict between saving the world and corporate profits.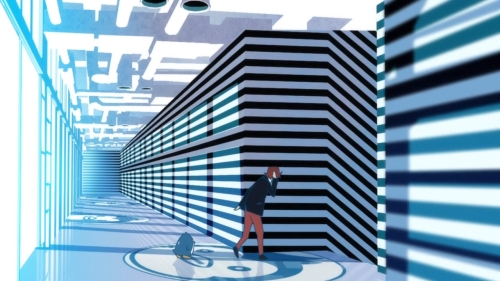 Mawaru Penguindrum
(Celeste) As  I enter into my final(!) year of my much-extended undergrad degree, there's a natural dropping off of the anime that I'm watching. Predictable as this might be for me, Mawaru Penguindrum is all I'm following right now.
I'd love to start this off by saying something along the lines of "For an Ikuhara series…" but when you cut away at his work on Sailor Moon (a non-original story) and the various OP/EDs that he's directed, Ikuhara hasn't done much aside from Utena, and, damnit, it's just not fair to compare things to Utena. That said, I think it's best to read Penguindrum as a second exploration into the same set of themes Utena opened: ideas about destiny, fate, ability, and the impotency of act that come with adolescence are as about in Mawaru Penguindrum as in Utena. The way in which Penguindrum feels more "mainstream", in my opinion, just a way in which Ikuhara has grown as a director. He can now express the same ideas and reach a wider audience.
Penguindrum always seems to dance a fine line between rife for analysis and essay, and ham-fisted anime hijinks. There's nothing wrong with this balance, and I think Penguindrum handles it better than, say, another one of its contemporaries (from another of Ikuhara's Utena ilk), Star Driver. At ten episodes in, however, I'm going to call it: by the time we hit the end of the series, Ikuhara will be at full form, and this series will likely tilt more towards the "rife for analysis" side of the spectrum than the "ham-fisted hijinks" side.
(bateszi) In a way, I've come to loathe the comparisons to Utena. It's not that they aren't merited, but there comes a point when Penguindrum has to stand alone, and constantly seeing it through the Utena lens only seems to encourage a depth of analysis that I'm not sure it merits, particularly given the subjectivity of its symbolism. There are similarities here to the way people perceived Star Driver too, at first as lovably eccentric, but then that collective sense of disappointment as the realisation sinks in that it's never going to make any damn sense. I'm enjoying Penguindrum, but I'm not spending a lot of time thinking about it, either. It's completely farcical, designed to be fun and weird and animated. Like Utena, it has snatches of real empathy and depth, but don't ruin it for yourself by trying to make sense of it all, just revel in its lovely madness.