It was around this time last year that I started watching Aria. I loved the first series, but stalled at some point during the second (Aria the Animation.) This week, though, I came back to it.
It felt new to me all over again, that sense of peace so typical of how I've felt about Aria from the off. It must be a seasonal thing. It's just an autumn kind of anime. Neo-Venezia is the land of frozen time, a place where one admires the breeze as it passes through fallen leaves and the way the sky's reflected by the surface of the water.
The lack of struggle in Aria is perhaps its defining point, but also most troubling. I liken it to drowning in a sea of chocolate. It's so sweet and happy and nice, but a part of me constantly sounds an alarm. I feel myself being lulled by its depiction of life, but it's too saccharine to be real. I don't feel the presence of life in it, but rather, an acceptance of death. It's like a nostalgic meditation on a long-since lost time and place. It's fascinating and beautiful, but I've rarely felt as detached from the modern world as when I'm watching Aria.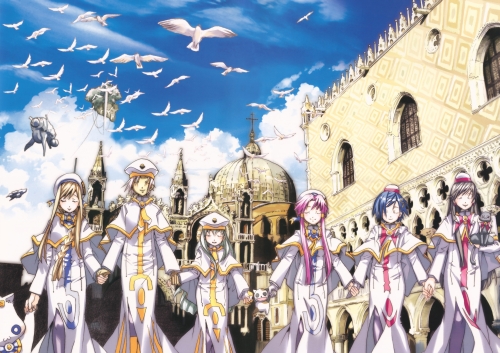 Of course, I'm supposed to feel detached. It's often described as a "healing" anime, iyashikei or mono no aware, and autumn is precisely the time of year when it's difficult to ignore the transience of things. Everything around us is changing, but not Neo-Venezia, where life is slow and the people understanding. When the evenings grow darker and flowers begin to wilt, it's this sanctuary of a land frozen in time; a respite from reality, so peaceful and calming, but a respite is all it should ever be, this place of dreams and ghosts.