Series like Blood-C catch my eye. At some point during its airing, I got the impression it was bad: the weekly reviews at Sea Slugs and Moe Sucks say as much and more, but since finishing, I've also read takes at chaostangent and S01E01 that say the opposite. Having now seen it for myself over the last week, I agree more with the latter blogs. Like all series that seem to require a little patience, Blood-C has ended up being quite underrated.
It's easy for me to say this now, but it just isn't the type of anime designed to be dissected week-on-week. Mirroring Saya's fragmented state of mind, it's an intentionally frustrating story up until the very end; a movie plot stretched out over 12 episodes.
I don't think I could've lasted 12 weeks with it, but 5 hours? So much more appetizing! I don't blame its critics for treating it like a TV series (after all, that's exactly what it is!) but from now on, others will see it more as a jig-saw puzzle, each further instalment just another piece to add to a bigger picture, minus the weekly breaks in-between.
That ability to binge makes a huge difference to a series like this. My experience was completely different to that of the weekly follower, explaining why there's such an inconsistency of opinion on the show. There's no wrong way to view Blood-C, but I honestly feel that the reviews of it on an episodic basis are now, well, irrelevant.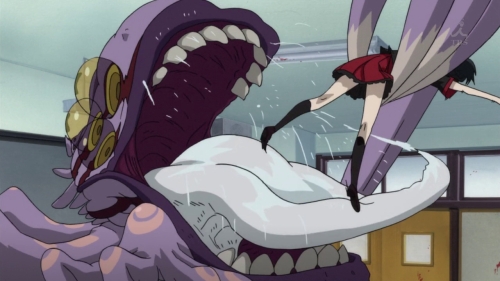 Another thing is that the censorship of the gore in the show is extremely distracting. Had I seen this uncensored, it could've quite easily been the goriest anime of the last 10 years, right up along-side the likes of Shiki, Shigurui and Elfen Lied. It's worth the time alone just to see a series so brazenly bloody, alas, it's hardly worth watching just now because it's so damn censored.
It's a shame because Blood-C is totally my kind of thing: pulpy horror. A disorientated Saya fights monsters, each fight more bloody than the last, full of collateral damage, escalating an ever growing sense of incongruity. No-one is safe from the massacre as it increasingly feels like one long descent into chaos, a feeling only confirmed as the veil is lifted from Saya's eyes in the last episode and the red-mist well and truly unfurls.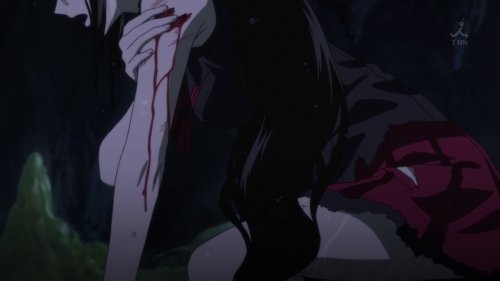 She's still a cool character; calm, strong and brave, but I wish we'd seen more of her darker side. She spends too much time as the sedate, responsible girl. I'm sold on the forthcoming movie just to see her in full 'dark mode' and that's really Blood-C's greatest short-coming, that she's is too much of a blank slate, not inquisitive enough by half. It could be argued that the selfish, immoral bastards around her are constantly re-enforcing her lack of control, but really, Blood-C's too long not for her to ask at least a few more questions.
This is the first series post-Madoka to take-on that sense of something being wrong in an otherwise normal girl's life (and there's a fairly blatant homage to a famous scene in Madoka, too) but missing is the directorial flash of someone like Shinbo. Blood-C is interesting, violent and pulpy, but just a bit empty, too.