I sat through all of Endless Eight, or rather, I nearly did. I fully intended to, which is the important thing.
***
Watching Haruhi for the first time now is like reading an old newspaper. In 2006, it was about as ubiquitous as anime gets. The dancing ED, the fake first episode, the way the TV broadcast was all jumbled up and yeah, that concert scene. People just wouldn't shut-up about it, and it seemed to kick-off that whole moe thing, too.
Therefore, I couldn't bring myself to watch it for 5 short years, but such is my odyssey in anime blogging that today was always inevitable. We're a bundle of contradictions, anime bloggers.
Anyway, for a series as venerated as this, it wasn't as extreme as I was expecting and began for me more as a tour guide than an actual piece of storytelling.
I softened up with every further episode, though. It wasn't the moe purgatory I'd feared, but it isn't the masterpiece that the ghost of anime past would have you believe, either. I'm just glad I finally got over that hump.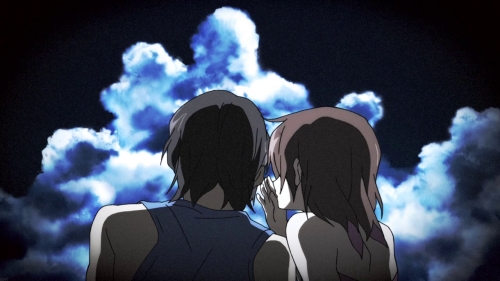 This is all stuff I felt like I needed to say, but generally speaking, I'm impressed by how Kyoto Animation approached the series.
In lesser hands, it would've never been as interesting or subtle, but almost everything that's great about it can be attributed to them. It has a strong sense of independence and I'd like to think that's truly why it captured so many hearts.
***
Watching Haruhi like this though brings one huge obstacle: Endless Eight.
Calling it audacious would be an understatement. After 3 years of waiting, the fans finally got their new series, but Kyoto Animation would soon be drinking their delicious tears by the bucket-load.
I couldn't help laughing to myself at the abrupt end of yet another episodic loop and imagining the sheer demented exasperation it generated. To be honest, I liked Endless Eight quite a bit.
I'm sure I'd feel differently if I were watching it week-in week-out for 2 months, but I was able to see it more as a 3-hour movie.
It isn't merely the same episode repeated 8 times, either. In terms of pure filler, Naruto is about as bad as it gets. I can't watch that, but Endless Eight, despite the admittedly repetitive jokes, keeps things interesting enough to seem a real artistic endeavour.
It elevates the significance of every passing moment, how everything, or any place, can seem so different the second (or, indeed, eighth!) time around.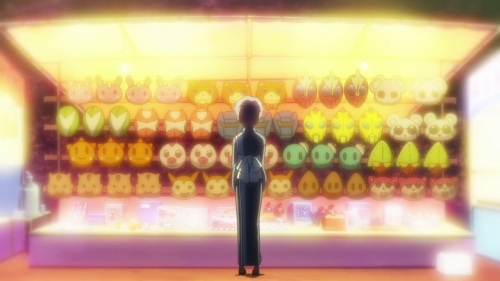 As it wore on, I became fascinated by Yuki Nagato at the night festival, standing in-front of that glowing wall of masks, each representing a different path; a symbol of the endless possibilities in life; all delivered in her trademark expression of indifference and sadness.
It reminded me of Watashi in the last episode of The Tatami Galaxy, finally stumbling out of his room into a human kaleidoscope of a road; everyone around him is changing, their clothes, hair-styles, even company: a woman walking alone is suddenly holding the hand of a small child, the next moment, a boyfriend on her arm.
"Stop wandering aimlessly, and grab that opportunity with all your heart!"
***
In the end, I watched the last episode of Endless Eight thinking it was the seventh. I only realised something was wrong with 5 minutes left to go and, by then, it was too late. I could never go back at that point, therefore, I can never say I watched all of Endless Eight.
***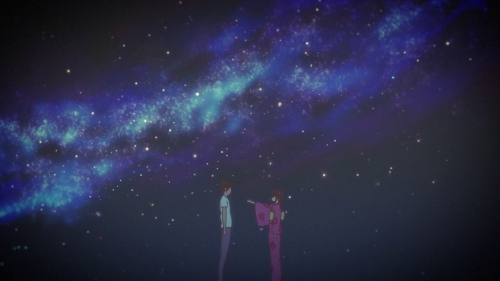 This is likely to be my last post before Christmas and, that being the case, I hope you have a good one! This will be the blog's sixth Christmas and, sooner or later, she's going to realise that Father Christmas isn't real, but for now, she still believes!