An edgy, Western-media inspired "all villains" story that is as fun and violent as it is vapid.
Is Akudama Drive good?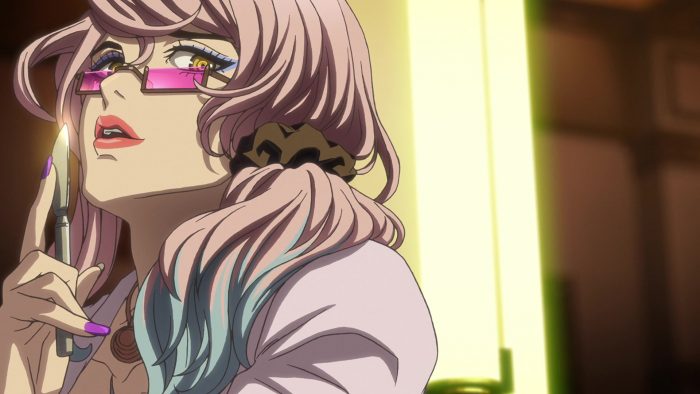 It's certainly fun, but I wouldn't go so far as to call it good. Watching this first episode, "style over substance" is what I was thinking. Akudama Drive is about spectacle, first and foremost, with a ton of futuristic detail and movement in most every scene; and most every scene is an action scene. Which is to say, it's a really breathless introduction to these characters, all of them villains: one is a man capable of ripping hundreds of robots to pieces with his bare hands, another a seductive doctor only too willing to kill or maim rather than help. All of them summoned to the same place: to save a criminal (known as Cutthroat!) that's about to be executed by guillotine, no less! So, I suppose I'm actually quite immature, because I only really felt excited about Akudama Drive when the violence went up a notch towards the end and became so hyper stylized that literal heads were rolling off of people's shoulders.
As is befitting an anime co-produced by a video game company, there's a lot of CG here too, only it isn't as obtrusive as a Polygon Pictures anime like Ajin, rather the CG quite expertly adds a sense of depth to the cityscape. Indeed, the environment is the best thing about this episode, really.
Described in 2018 as being "inspired by 1990s crime action films such as Pulp Fiction and Léon: The Professional", in reality Akudama Drive feels a bit more like watching an edgy superhero comic book adaptation, and therefore, feels a bit played out too.
Anime like Akudama Drive
At first, the sheer visual overload of Akudama Drive reminded me of how it felt to watch Gankutsuou, which also (despite being a ridiculous 16 years old at this point, where does the time go?!) heavily uses CG to create a detailed, massive environment, albeit in a tonally completely different show.
Tiger & Bunny is another series that has a very Western comic book feel that I was reminded of when watching this, but perhaps the closest in narrative is the classic Cyber City Oedo 808, which has that nostalgic Nineties Madhouse aesthetic with Yoshiaki Kawajiri in his pomp. It is about a trio of unapologetic criminals tasked with fighting even bigger villains.
How many episodes does Akudama Drive have?
Produced at the famous Studio Pierrot, Akudama Drive is set to have 12 episodes. It is an anime original project co-produced by Too Kyo Games, a video game company formed by the creators of Danganronpa in 2017.