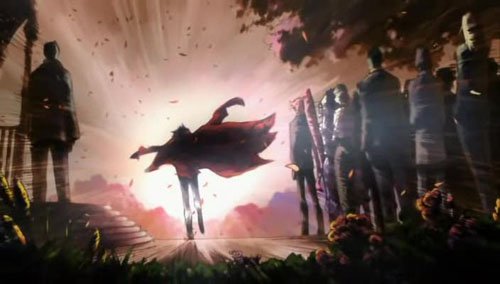 The internet teaches harsh lessons; one of the most important is to be vigilant for spoilers. Something good was released on Sunday and subsequently, these past few days of surfing the rippling tide of written voices was gradually stifled by spiralling waves of paranoia. Yet as the dark of night finally drew in and the stars twinkled with an ephemeral beauty, the sea of emotion raging inside this blogger fell suddenly calm in anticipation of the end. That is, the end of Tengen Toppa Gurren Lagann.
Such is the quality of this series that it inspires me to write such melodramatic words. Time and time again, I've come away from it excited and brimming with enthusiasm, and of course, the end was no different. In fact, my heart was captured by the mere pre-credit sequence; Simon rolls in to save Nia, the now-familiar opera swells and the Gurren-dan assemble – each kitted up with their own bad-ass attitudes and standing on their hind legs like a group of little Rory Calhouns. They know, as we know, that this is IT. Time to kick ass.
I've read some complaints about Gurren Lagann, largely that it's rather predictable. I can't deny that; after all, the opening scene in the very first episode is a glimpse far into the future. From then on, we know exactly where it's all leading, so yes, it's predictable. But knowing what's going to happen doesn't take anything away from the beauty, the emotion and the excitement of Simon's against-all-odds journey from snotty weakling to legendary hero.
Similarly, I'm somewhat baffled by criticism squared at the narrative's illogical progression. I was immediately taken by the tone of "forget realism, ALL WE NEED IS GUTS, PASSION AND FIGHTING SPIRIT". Emotionally, Gurren Lagann is all about self-belief, confidence and optimism; after all, that is "spiral energy" – an unrelenting, blood boiling ambition to succeed; even when all seems lost, dare to have hope and god dammit, believe in yourself.
All of this comes across in the presentation of the series, which was a constantly refreshing dose of colorful animated adventure. Above all, the animation was consistent and full of life, far separated from the low-frame, jerky rubbish that passes for anime these days. Inspired by Simon's strength of will and symbolic of an optimistic human spirit, everything constantly expands, grows and transforms to an extent where entire universes are crushed under the weight of mankind's struggle to survive.
The end, like the rest of the series, is tinged with a knowing mortality. The loss of life is not tragic as much as poetic. Indeed, during the epilogue we see the characters decades on, notably older and wrinkled, yet they are happy. It's somewhat sad and depressing to see such strong characters in this state, especially our hero Simon, fading from such bright times, yet still, it feels reassuring too, they are human, they won't live forever. Overwhelmingly, we're left feeling like there is hope for us all. What an awesome show.