There is perhaps no anime I want to love more than Naruto. I've been following this story since 2003 and even if it drags on for another decade, I'll still be camped out all night waiting for its end. I know full well it's far from perfect, but by now I'm too caught up in these characters to actually care whether or not Naruto is objectively good or bad, that it simply is Naruto is good enough for me. I suppose this is a lot like being a Star Wars fan, you have to be willing to completely invest yourself in the story, kick reason to the curb and accept what you're seeing. If all you can do is complain about the fucking ewoks, you're completely missing the point.
The last few episodes of Shippuuden have been good. I'm not sure if it's simply because the Gaara retrieval arc was a little too long, or if I just wasn't as engrossed in it as I thought, but only now is it feeling like Naruto is recapturing that exciting and compulsive feeling. All this is connected with the return of Orochimaru and Kabuto and a sense that we're getting closer to that inevitably awesome first encounter with bad Sasuke.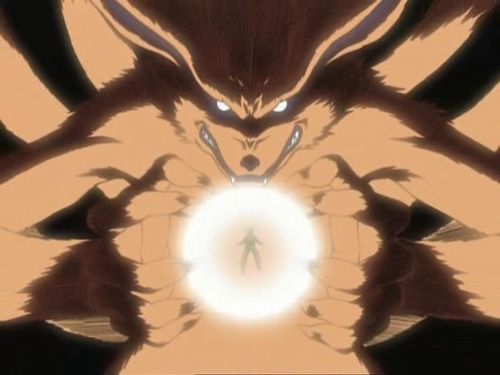 To be honest, I still don't completely understand the motivations behind trying to "save" Sasuke. Naruto obviously believes that if only he were stronger when they originally clashed, he could have stopped Sasuke from leaving by force and everything would have been fine, but this is ignoring that Sasuke clearly wanted to leave everyone behind, ally with Orochimaru and chase down Itachi. Fundamentally, we're yet to see if he is capable of committing evil and, knowing how Naruto will never give up on a friend, it remains to be seen whether or not his heart can be sufficiently moved to change perspective.
All that said, you can't help but honestly and utterly cheer for Naruto; the depth of his feeling is unquestionable and his complete willingness to sacrifice everything is aptly symbolised during his murky internal dialogues — drowning in helplessness, Naruto, knowing full well he is shortening his life span, does the only thing he can do to try and save his friend; combine with the demon fox and embrace his cursed power. It was disturbing to see that his final transformation literally burns off his skin. Naruto, with his blood red eyes, is fast becoming a monster.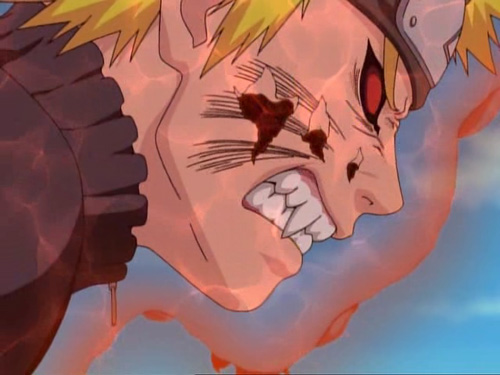 I loved how he so nonchalantly tossed aside an attack from the ever condescending Kabuto, but of course, I can't wait to see how far he will push Orochimaru too (that is, before Yamato is inevitably forced to seal Naruto's escalating power). Here's hoping for another beautifully animated and big budget smack down.