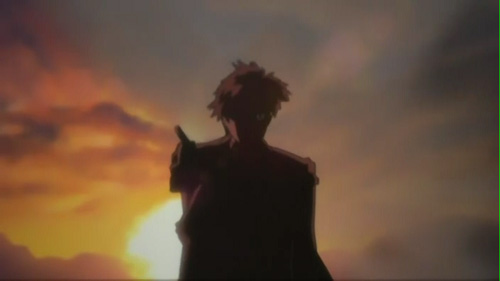 It bothers me to say I took a while to realize the quality of "Baccano!". Aside from boasting no less than 18 main characters, the Pulp Fiction-esque narrative would constantly fracture and leap back and forth in time. I didn't like that I had to make an effort to constantly focus and be forced to remember so many names and faces; three episodes in, I was feeling frustrated and close to losing interest. Something needed to be done and in a last ditch attempt to salvage the series, it became clear I'd have to wait it out, build up the fansubs and spend a long weekend working my way through each episode; allowing time to fully immerse myself in the story. And now that weekend is past; the end result is? What the hell did you expect? Awesome!
Many desire immortality, yet the key to eternal life has forever eluded man. The story of "Baccano!" begins in 1711 when a group of sea-faring alchemists capture this most desired of gifts. Nearly all of them become immortal there and then, yet, as fate would have it; only one is granted the knowledge to recreate the potion. Of course, he quickly decides not to tell, wisely realising the folly in allowing such power to leak out into the public domain, but his brave decision quickly incites murder and ultimately, a struggle that's raged for over 200 years. We join the story as it reaches its climax during prohibition-era North America; this was the absolute height of organised crime in the US, a violent and cruel time to live, or indeed, die.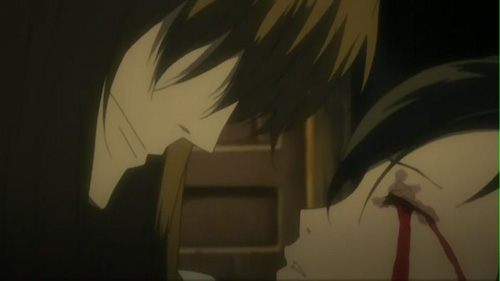 Despite its frequent lapses into light comedy, squeamish readers should be warned that this is a deceptively violent (and often, sadistic) series. Without going into too much detail, lets just say that bones break, arms get sliced, faces explode and children are tortured. Of course, this refreshing lack of moral compunction inevitably climaxes in some breath-taking and unpredictable action scenes, including several sequences of beautifully animated hand-to-hand combat, fought on the windy carriage-roofs of a moving train. Just so you know, it turns out that knives, guns, grenades and even flame-throwers aren't much of a match for blood-thirsty gymnasts. "Baccano!" is a lot like "Black Lagoon"; it has that same delirious hunger for gruesome carnage.
On its own, the action wouldn't be enough, but as I've already mentioned, this is hardly a conventional series. Aside from the fact that the narrative will regularly interchange years and events in a matter of seconds, many of the characters provoke empathy and romance despite having splattered the brains of an adversary all over the wall minutes earlier. I loved the playful dialogue, and the character interactions are remarkably fun and natural; you believe in their fear, sadness or anger. You can see a love affair unfolding and it's almost heart-breaking. By the end I was completely riveted by the story, lost in the characters.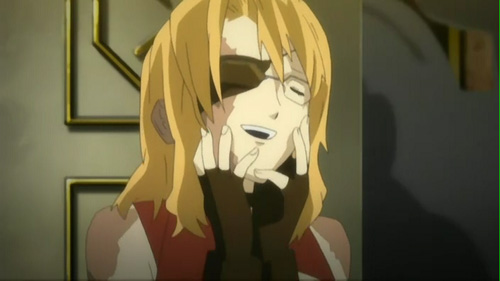 There is so much to say about "Baccano!" but I'm afraid I'll lose your concentration if I keep going. I've already had to completely scrap the first version of this review since it degenerated into a bloated rant. Obviously, I absolutely loved this series, and if I ever get around to writing a review of 2007, it will easily make my top 3 of the year. The best decision I made was to push through it over a quiet weekend; as expected, the jumbled jigsaw of a plot and all those unique characters are so much easier to remember this way. The only problem is that now I'm having trouble letting go, I'm still stuck in the world of immortals and trying to fathom out the few remaining mysteries. Hints are made at characters and storylines beyond the anime narrative and quite frankly, I'd die for a sequel. If you're yet to watch "Baccano!"; I envy you.