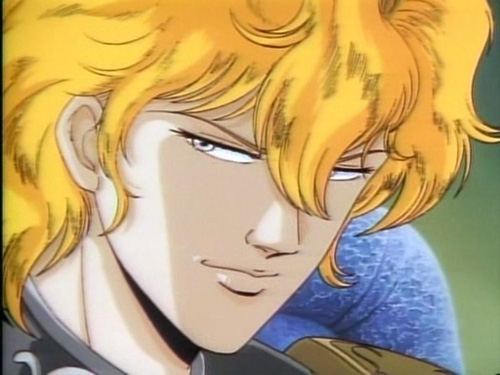 Writing an anime blog is frustrating. Either through lack of time or energy, I just haven't felt the inclination to set aside an afternoon to write about something. I guess that's more a reflection on my recent viewing habits than anything else, because since finishing with February's Ookiku Furikabutte, I've not been able to immerse myself in a series to the point where I could contribute any kind of worthwhile, extended writing. Indeed, I was hoping to uncover some inspiration after catching up with two long time favourites, Naruto and One Piece, but to be honest, neither are firing on all cylinders at the moment. So, I'm sorry, dear reader, if things have seemed on the short side of late, but that I'm here now is as sure a sign as any that I've found something new to light the night; it's an old flame I've been sheltering for too long, Legend of the Galactic Heroes.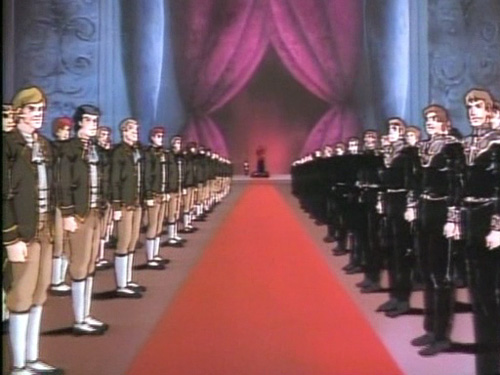 There's no easy way to describe Legend of the Galactic Heroes. It is, in many ways, the crowning achievement for an entire generation of anime creators, a nigh-on ten year production that ran from 1988 to 1997 and stretches across 110 episodes. Quite remarkably, it contains the largest voice cast for any known animated production. All these artists, directors and actors, they lived through (and even worked on) such influential space operas as Mobile Suit Gundam, Macross and Space Battleship Yamato, and before retiring, they created this as a tribute to, or culmination of, their beloved star-fairing era. Essentially, Legend of the Galactic Heroes is that generation's parting sentiment, their last, glorious hurrah, its opulent texture and poetic scope sweeping through distant stars to study man's political, historical, romantic lust for power.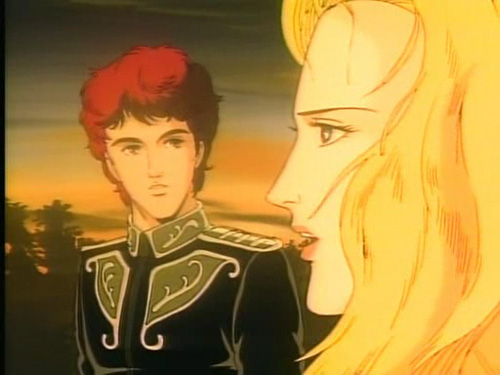 We have two protagonists at the heart of this story; ambitious aryan Reinhard von Lohengramm of the Galactic Empire (based on 19th century Prussia, hence the German names) and reluctant tactician Yang Wen-li of the Free Planets Alliance. By the time both men, notably younger than their peers, come into power, their sides have been fighting a war of attrition for over 100 years. Lohengramm's lofty ambitions were set in stone when his beautiful older sister, Annerose, was bought (as in, with money) by the Kaiser to be his concubine. Reinhard rises through the ranks of the Empire's military, gaining more and more power with each success, striving for the ostensible goal of winning back her freedom, though, with every passing victory; one wonders if he's not planning to control the galaxy itself. Yang Wen-li is the exact opposite, in the sense that he isn't driven by any lofty ambition, he doesn't want to fight, and only does so out of loyalty to his comrades and for the sake of forging a peaceful future. Right from the start, there's no real enemy to speak of, simply these two men on opposite sides of the fence, arch-rivals, geniuses, as fate would have it, striving for a better tomorrow.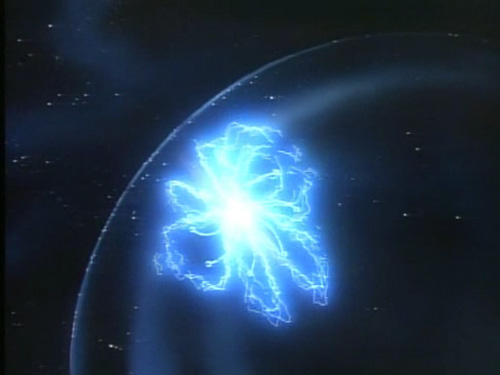 Their characterisation sets in motion this massive struggle for power engulfing man's last frontier. So far, I've only seen up to episode 10, but during the first two episodes alone, over one million lives are sacrificed in battle. Much like Word War I, people are lost in their thousands, like pawns on a chess board at the hands of incompetent, pig-headed commanders too proud to quit. Also, there is a big Star Wars vibe, not least of all from the Empire's gigantic fortress Iserlohn and it's likeliness to the Death Star; the structure's super-weapon, aptly named the "Thor Hammer", can scythe through surrounding space-fleets with lightning force.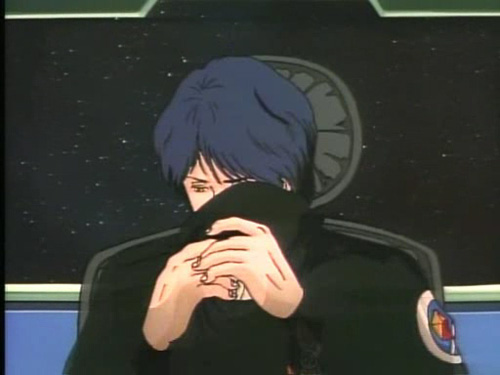 I don't want to write much more for fear of never ending; ultimately, this is a mere introduction to a series that's all about social and political commentary, it's so thought provoking that only a detailed, blow-by-blow study would suffice. Maybe that sounds intense? You'd be quite right; Legend of the Galactic Heroes is a concentrated, hard science fiction story heavy on philosophical dialogue (though not exactly at the level of Mamoru Oshii), military tactics and political manoeuvring. It has a wonderful, emotional score; rousing, soul-searching theatrical orchestra, utterly befitting for a story set within the Sea of Stars, where the whims of a select few carry the ideals and hopes of an entire generation.
You get the feeling that this is it, this is why I watch anime.