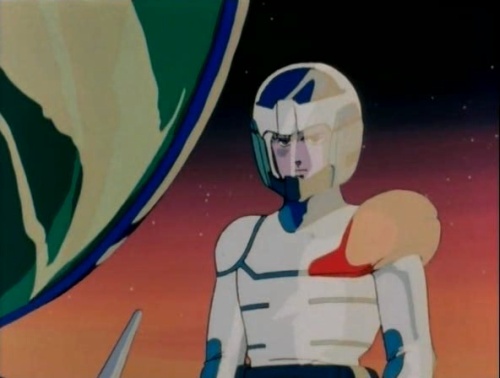 Mecha anime has always been a bit hit or miss for me. I'll often find that I'm not as attracted to the mecha as I am to the science fiction stories they inhabit. That is to say, I enjoy a lot of good mecha anime because I enjoy a lot of good science fiction. I suppose it was inevitable, then, that I would eventually stumble over the works of a certain Ryosuke Takahashi, one of the founding fathers of the 'real robot' genre. In recent times, he has directed the likes of Blue Gender and Flag, but the majority of his most influential anime was created during the Eighties, one of which happens to be 'Blue Comet SPT Layzner' (1985).
As of this post, only 9 episodes have been fansubbed, but I liked it enough to have watched them all this past weekend. I wish I could say that I'd always planned to watch Layzner, but the truth is that the recent batch torrent attracted my attention because the series has a cool name. The same thing happened with 'Legend of the Galactic Heroes,' too, for shame!

Anyway, the 'real robot' genre is one that takes the concept of mecha and anchors it within a story that is built on consistent, logical foundations. I'm saying this because I want to emphasize that Layzner is 'hard' science fiction. It has a deep story with names, places, alien races and foreign technologies. The mecha is just another element of that world, not the centre of it.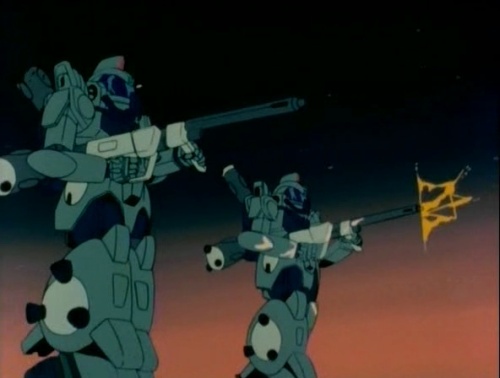 The series begins in an alternate reality 1996. Man has raced into space and installed outposts on Mars, but the Cold War still rages on and relations between the US and Russia are tense. The United Nations has itself a base on Mars and the story begins proper as a group of new students from the UN arrive on Mars to help keep the peace. From this point on, things go badly wrong, as a trio of unidentified hostiles descend on the UN base with a vicious intent.
Right there and then, the vast majority of the base's inhabitants are killed, including many of the new students, and amidst the carnage, this one particular scene jumps to mind. The people in the command center are baffled by what is happening and plead with the attacking mecha to retreat, but in response, one of them simply turns around, looks straight at the building and blows it away. So quick, so devastating, everything that I thought I knew about this anime was destroyed in that very moment, too, and this was just the first episode; it was uncompromising, intense and thrilling.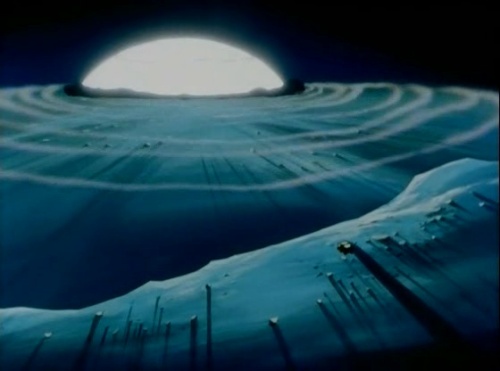 This attack is just the beginning of one long and hard ordeal for the survivors. Cut adrift on Mars, they have to slowly scythe their way across the planet's barren landscape to reach the distant US base, but meanwhile, confusion reigns as both the US and Russian governments blame each other for the destruction, culminating in yet another breath-taking scene. The remaining survivors are overjoyed to have finally sighted the US base on the horizon, but within seconds, their joy is replaced by horror, as a Russian atomic bomb rains down on the US base, incinerating with it what little hopes the survivors had left of escaping.
The plot unfolds in a very methodical, heat of the moment style. 9 episodes in, the survivors are still stranded on Mars, living every hour as if it were their last and fending off attack after attack from the 'foreign' hostiles. You see, that they are still alive is exactly the problem; if they can just get a message to Earth, they can warn mankind that a huge invasion force is heading their way!
That, then, is 'Blue Comet SPT Layzner', a dark, fascinating and thrilling science fiction anime that I have to recommend. It's from 1985, but the animation and general sense of story-telling is timeless. I'm aware it's annoying that only 9 episodes have been subtitled, but unless more people show an interest in this series, I suspect we could be waiting forever. Layzner is too good to wait forever. Watch it, write about it, do whatever you can. Trust me on this, it's worth the effort.