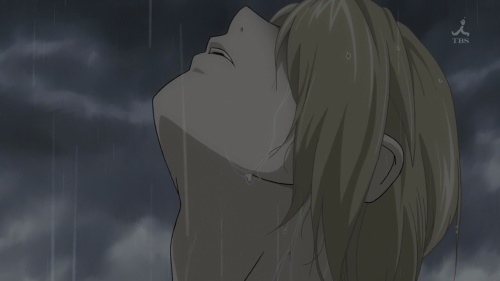 Something that 'outsiders' probably don't realise about Fullmetal Alchemist is just how grotesque and disturbing it can be for mainstream shonen; it has never been a story that shys away from death, even when the victims are cute little girls and their pet dogs!
This lurched back into focus during episode 20 of Brotherhood, when Ed, in-between bouts of throwing up, exhumes the remains of what was supposed to be his half-transmuted mother. While the act of digging up a long-buried grave is, in itself, a stomach-turning thing to do, after Ed looks at the remains, a plot twist even more disturbing is revealed, that the body they pulled back from 'the other side' wasn't their mother's at all!
Who's body was it? And why did it appear in place of his mother's? The story continues to raise these dark questions, and with no comforting, morally-sound answer in sight, I really think that FMA is overlooked as horror. Scenes like these, as well as the twisted fate of characters like Martel, are as cruel and disturbing as anything I've seen in anime.