Something has always bothered me about the ending of Samurai Champloo. It was an ending that haunted me for nearly a year after finishing the series, its memory resurfacing every time I thought about it. Midicronica's "San Francisco" was in many ways a fitting ending for an anime which drew so heavily from hip-hop and reggae culture, but there was somehow a disconnect. Samurai Champloo's ending always struck me as unbearably happy, like the colors on the screen and the chords of the song were attempting to sweep something under the rug. As the anime ends, the journey is over, and its end is just like its beginning: three people, alone.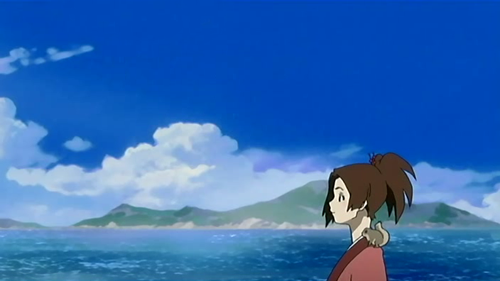 From scene to scene as the credits roll, Mugen, Jin and Fuu move steadily through differing landscapes, in different directions, further and further away from each other. The first time I watched the ending, there was a boulder in my stomach; I felt like I wanted to cry but it just wouldn't happen. "That's it?" I thought.
After everything the three had been through; after overcoming their own personality flaws, government officials, assassins and more than one bout with starvation, they just walked away? Even though they each had not another soul in the world to rely on? It wasn't an unsatisfying end: Fuu met her samurai, Mugen and Jin had their duel. However, in meeting their goals as characters, the thin threads which held them together all of a sudden ceased to be.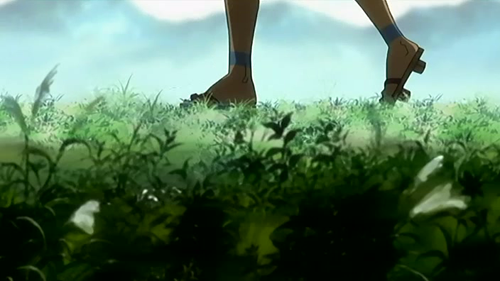 What Samurai Champloo repeatedly highlights is this simple act of walking away. That at any moment, as Fuu's did in the first episode, one's entire life could burst into flame, leaving you with nothing. The tragedy of its ending is only in the hearts of its viewers, as we realize just how tenuous our relationships with others are. The things that movies, novels, and anime trick us into thinking are commonplace – eternal friendship and love, happily-ever-afters, never ending journeys and magical spells – are nothing but romanticism. We encounter hundreds of people in our lives, and bond with a select few.  The vast majority of people we meet end up as nothing but passing acquaintances, nothing but people that we simply walk away from. Fuu, Jin and Mugen part with a simple "'Til we meet again"-eqsue phrase, departing to a world so violent and uncertain that this is nothing more than an unvoiced hope.