It's autumn again, and with it comes dozens of new anime series to get excited about. From these, we've picked a few that we're particularly interested in. Marvel at our impeccable taste and insightful opinions!

I was thinking you'd come up with something better than that for the introduction. Evidently my expectations were too high.
.
That is what happens when we write the introduction after the rest of the post.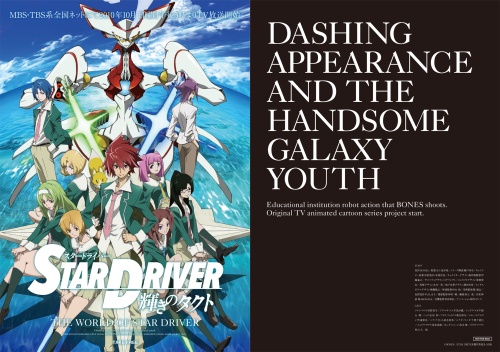 Star Driver
One has to wonder if BONES is aiming to become the next Sunrise. Star Driver, like their latest major offerings, is a mecha anime. Visually, it's a marked change from Eureka Seven, Xam'd and its ilk, but I've watched everything BONES has put out in recent years with very little complaint, and thus see no reason to stop doing so.

Is Star Driver going to be the first true magical boy anime? It may well be if its trailer is anything to go by (bishounen transformation sequences and all!) As previously mentioned by Celeste, this really looks like BONES channelling the spirit of Sunrise's recent mecha anime (specifically, the flamboyance of Code Geass.) I'd long been hoping that this would be more akin to the hot-blooded Gurren Lagann, but given both the director (Takuya Igarashi) and chief writer (Yoji Enokido) worked together on (the ever-so-pink) Ouran High School Host Club, it's probably fair to say it won't be anything like Gurren Lagann at all. Alas, it's still BONES, so I'll be watching it!

Kuragehime
Frankly, the combination of this airing in the noitaminA timeslot, as well as it being aimed at the josei demographic were more than enough to convince me to pick this up. The premise itself sounds fairly interesting: an apartment full of misfit girls, one of whom meets a man in drag. I assume madness ensues thereafter. Unfortunately, the character designs in the anime seem to be a bit of a departure from the manga, utilizing a brighter color scheme, but I doubt this will detract much from my (eminent?) enjoyment of the show.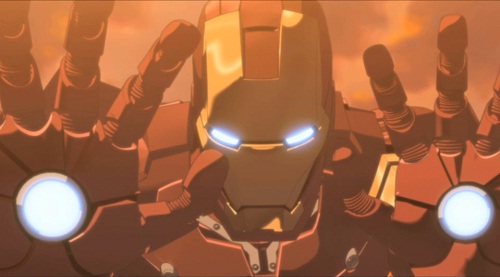 Iron Man
I am very excited about Marvel's collaboration with Madhouse to make four different anime, X-Men, Wolverine, Blade and Iron Man.  Marvel has plenty of stories from their large comic book library which it can use. Further, Marvel has an incentive to produce high quality anime adaptations that do not damage the brand.  Iron Man's trailer looks sleek and well put together. I also liked the plot which addresses the controversial topic of nuclear power.  Iron Man's alter ego Tony Stark wants to use nuclear power to create an arc reactor that will provide limitless clean energy to Japan.  The only concern I have about this anime is Marvel's decision to make Iron Man more Japanese by creating a Japanese villain (who looks like a weird space pirate) and a female sidekick (who looks like a clone of Trixie from Speed Racer).

The really cool trailer was directed by anime maestro Takeshi Koike (Redline) but apparently he's not actually working on the series itself (what a shame!) The actual director will be Yuzo Sato of Kaiji and One Outs fame. Anyway, make sure you check out the trailer, it's really good.

Tamayura
Though just an OVA, this is on my list for one very good reason: Junichi Sato. Creator and director of Princess Tutu (also Aria, for the rest of you) as well as a slew of other good series, I almost don't care what it's about. Though the animation style seems a little typical (brightly colored, simple linework) I have so much faith in Sato's ability to tell a story that I'm not too worried about anything  in regards to this. I'd rather not read too much about it, and wait for the surprise.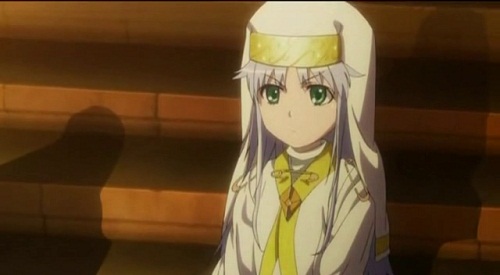 Toaru Majutsu no Index II
Now in its second season, Toaru Majutsu no Index really needs to hit its stride or I'm going to drop it. The first season of the sci-fi/comedy set the stage by introducing the audience to Tōma Kamijō, a high school student in Academy City. The city is filled with espers, people with psychic or supernatural powers. The espers maintain a shaky peace with magic users, people who create abilities that imitate the abilities of the espers. Tōma has neither magical nor esper powers, but his right hand has the ability to nullify both. One day Tōma came home and found a young girl in a nun's outfit unconscious in his apartment. The girl was named Index and her subconscious mind held the contents of 103,000 books of forbidden magic. Tōma spent most of the first season protecting Index from magic users and espers who wanted access to those books.
The first season successfully established Tōma's world and made reference to powerful magic and esper users that were directing events from the background. But, instead of discovering the identity of these masterminds, Tomu spent most of the time fighting off a new villain each episode. To stay interesting, the second season needs to reveal more about the people pulling the strings. If the show continues with the villain of the week format and fails to reveal some of the mysteries it created in season one, I'll probably lose interest.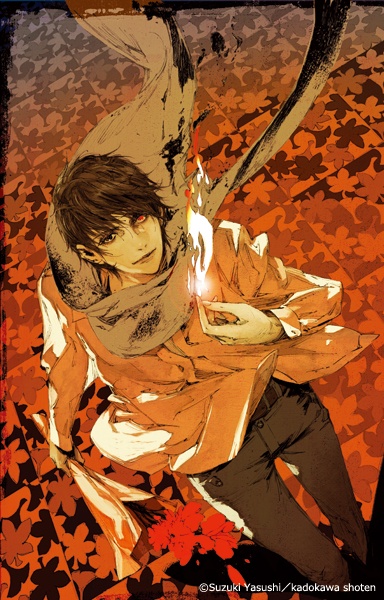 Psychic Detective Yakumo
I don't know much about Psychic Detective Yakumo, but going on first impressions alone, it looks quite interesting. This new anime series is the latest in a long line of Psychic Detective Yakumo mystery novels, manga and (live-action) TV drama since 2004, so it's already well-known in Japan. The somewhat discouraging news is that it's being animated by (the rather infamous) Bee Train, but I really enjoyed Phantom ~Requiem for the Phantom~, so may be there's still something interesting here anyway? I'll take any series that's even slightly dark and moody at this point, and with it being about a guy with heterochromia who hunts ghosts for a living, it's safe to say I'm sold (for the first episode at least!)

My Little Sister Can't Be This Cute (Ore no Imouto ga Konnani Kawaii Wake ga Nai)
The plot of this series is simple and it borders on disgusting.  The main character Kyousuke is a 17 year old high school student who lives with his emotionally distant 14 year old younger sister.  The two have little in common and barely even talk to each other.  This all changes when Kyousuke discovers that his sister is an otaku who is secretly interested in moe anime. Even more disturbingly, he finds out that she has been playing video games which include brother and sister incestuous relationships.  I think this show will succeed or fail based on the first episode.  If it caters too much towards fan service and depictions of moe and lolicon video games it will get disgusting very quickly.  On the other hand the plot is certainly unique.  If the show simply talks about moe and lolicon and doesn't turn into moe itself it could be quite good.

Merely the name of that show is enough to set me running away from it, forever.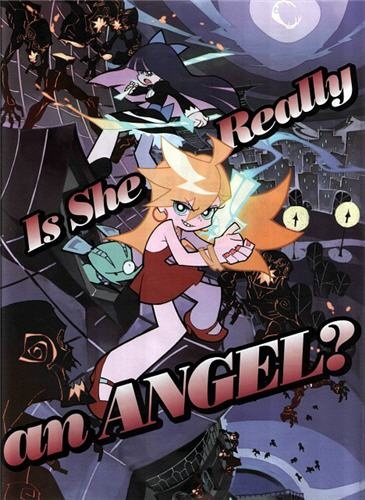 Panty & Stocking with Garterbelt
Oh man, oh man, oh man, where the hell do I start with Panty & Stocking with Garterbelt? How about that it's an original anime series by Gainax? Not enough? Okay, it's also being directed by Hiroyuki Imaishi. Don't know him? The last thing he directed was Tengen Toppa Gurren Lagann. Seen that? No? Well, the soundtrack is being composed by Taku Takahashi (one of the guys behind Japan's hip-hop group M-flo.) So, let's face it, guys, with a line-up like that and given just how cool this looks, you have to watch it, right?! Apparently it's going to be crazy, violent and sex-fuelled (comparisons to Imaishi's Dead Leaves abound) so don't expect anything particularly deep or meaningful. It's guaranteed to be crass and offensive. Many have already complained that it doesn't look enough like "real" anime. Quite frankly, I can't wait.

Rewatching the trailer, I have to say the aesthetic isn't bad but it doesn't quite hit the right notes with me, much to my own surprise. Regardless, it's an interesting one, and I'm always up for visual experimentation – no way to expand your tastes but to try things that are outside of them! I'm probably going to watch this on principle alone: DJ Taku Takahashi plus Gainax plus Imaishi cannot go wrong. And by "on principle alone", I mean I'm a big enough M-flo fan that I'll be watching this just to listen to the soundtrack.