In 12 episodes, Puella Magi Madoka Magica convinced me that there's more to Akiyuki Shinbo than otaku-pandering. The director has increasingly been held in high regard, but until Madoka, I'd not taken any substantial steps into his oeuvre. Not even Bakemonogatari coaxed me in, but post-Madoka, I've found a lot of new respect for the man.
Experimental and fearless is how I'd describe the series, as not only does it impose a very specific, artsy aesthetic on a subject matter reserved for the hardcore, it also takes a hard-line with its young characters. Much like Bokurano, it never backs down, or allows for an easy way out.
Credit must go to the writers, too. Yesterday's wait for these last 2 episodes was exciting, and it's been a long time since I felt that way about any series. It's not just that I was intensely curious about where it was all headed, but that I was also confident in it being competently delivered. There was never any doubt in my mind that it was going to be good, and that's a testament to episode after episode of solid, consistent writing.
It's a shame that perhaps the weakest section of the series is its first couple of episodes, because they present something of a leap of faith for non-believers, yet without a more conventional beginning, we'd probably lose that delicious taste of subversion. So delicious; a big part of the fun of watching this is just reveling in the idea that such an idealistic genre has been turned upside-down. Surely, someone, somewhere, was outraged.
I suppose this is where the Evangelion comparisons come into play, too, given they both inherit the trappings of their respective genre, only to then spit them back into our shocked faces. I liken those first few episodes of Madoka to a coiled snake. Suddenly, the snake bites (and that moment was unforgettable.)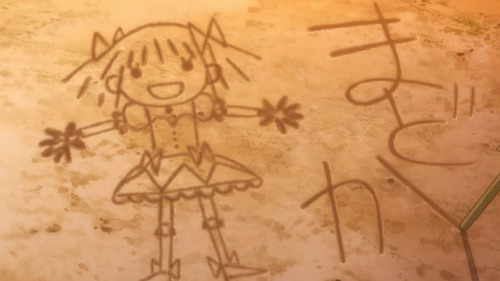 Madoka's legacy, I hope, will be to push anime further into the realms of experimentation. I need to own this series, place it on my shelf alongside The Tatami Galaxy and Mushishi. Most of all, though, I just want for Madoka to set the right examples. There's no substitute for good writing; original anime can be exciting; and experimental animation can be affective. Just be brave, everyone, but especially you, Japan.